Click here for all posts in the Brand Experience Project.
First up, a general shopping tip. Sephora is currently having a sitewide sale, offering 10% off on everything. This sounds great, and I considered picking up some Bobbi Brown face base, a product I now see as one I cannot be without. However, it occurred to me that I should check to see if Bobbi Brown has their own e-commerce website, and I am so glad I did.
Bobbi Brown's site is offering 25% off on everything during the Sephora sale! In addition, Rakuten will give you 4% cash back on purchases. Remember to check the manufacturer websites!
Having said that, I did run into a small issue during checkout on the Bobbi Brown site, and wanted to share it.
It was promoted prominently on the website that if you spent over $75 that you would get to create your own 4-piece set. I didn't know what this meant exactly but I was excited to find out later that it would be 2 full-size makeup products from a selected group, a miniature skincare item and a makeup bag. How fun! (Also a great effort to increase the cart value and to make the shipping costs that have to be paid a bit less painful on the part of the brand.)
Let's take a look at the page where you were sent to create your set.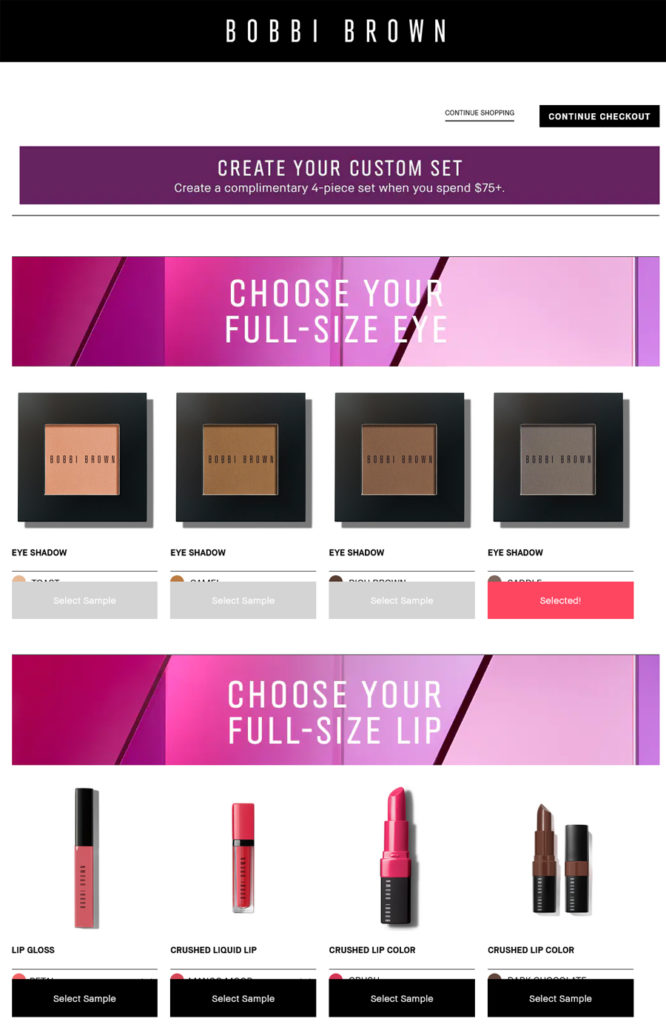 The color names are unfortunately cut off. It's very helpful that the colors are prominent in the product images, because I could find no way to reveal the color names peeking out underneath.
I also struggled with the select sample buttons over the covered text, which I suspect is related. Lower on the page (not shown here) where I was choosing the skincare, no color information was needed and the buttons worked immediately.
This is obviously a small issue, but I personally don't like to see ANY issues. This added bonus set is such a great offer but is marred by the issues with choosing your items in checkout.
The rest of my Bobbi Brown shopping experience was quite good, so I look forward to continuing to shop there.
{ Comments on this entry are closed }