New segment, totally inspired by this video! (Edit: I found out after creating and posting this that a much simpler version exists in another viewer's comment on the Tested site.)
If you are not subscribed to Tested, you need to check it out right now. Lots of great content, at the heart of it stuff featuring Adam Savage and Jamie Hyneman of Mythbusters fame. (You know I love Mythbusters, I even sort of busted a Mythbusters result a while back.) Shoutouts to Will Smith and Norman Chan as well.
Recently, 2 videos made me start thinking that one of my shopping posts should be to find the things seen in online videos. There have been 2 on Tested recently that I would like to focus on. I'm going backwards, because the first one I'm going to shop is Adam Savage's Everyday Carry. Watch the video, where Adam walks you through the items he carries on his person every day.
Please note that I do not know the exact items being shown, and will try to find what I see, or indicate that I have found something similar.
Here's a look at the entire contents. We will break it down though.
First up is Adam's phone. Adam uses a black iPhone 5, encased in an Element Sector 5 iPhone Case.
Adam has a leather billfold from Paul Smith. He specifically mentions that this edition was for the celebration of the Paul Smith store's existence in NYC.
We also get a lovely close-up of the leather wear, which looks amazing.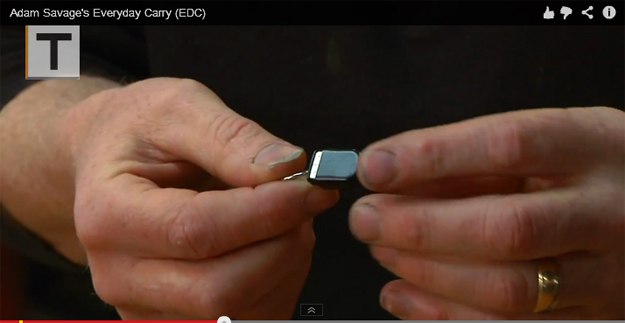 Next up are the keys, and Adam shows off a very small 32GB Flash Drive Keychain that he says has come in very useful. (Maybe I need to switch to this instead of carrying a 1 TB portable drive around in my bag?)
Adam uses a Remove Before Flight Keychain, and says it makes it easy to find keys.
A Fisher Space Pen and a Field Notes Graph Paper Notebook are always in Adam's pocket. The graph paper specifically is noted.
This is a look at Adam's tiny flashlight. From what I can tell, it is a Fenix E01, which matches the parameters discussed in the video.
Finally, we come to Adam's watch (a gift from his wife), the Omega Seamaster. I am not 100% on this one, but I think it is this model.
That brings us to the end of this Video Shopping post. I am not done with Adam Savage yet, he has a kitchen I saw in another Tested video and I want some of those items too. Check out the kitchen post here!