Part 2 of the Adam Savage-centric posts. Click here for part 1, where we shop for everything in Adam's daily carry.
The next video I'll be shopping is "Cooking Perfect Omelettes with Adam Savage and Traci des Jardins." I generally don't go for eggs, but this video makes me want omelettes.
Let's get started on what we can find in Adam's kitchen.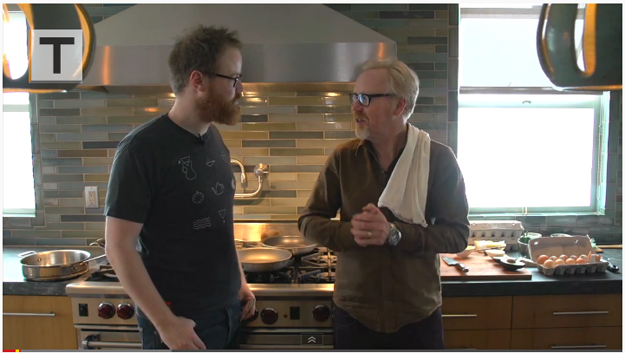 I don't know where to get it, but I really love that backsplash. You can also get a glimpse of the industrial stove and hood.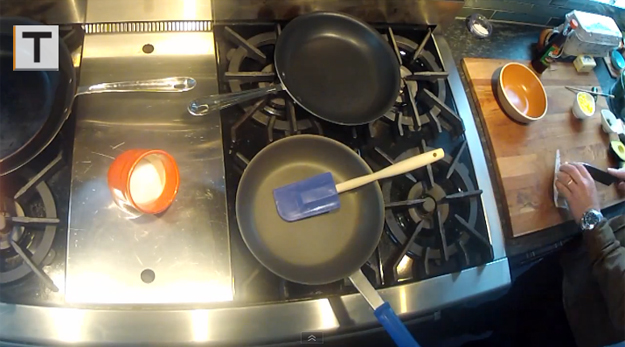 Overhead view! The first item I went looking for is the salt holder. Apparently also called a salt pig, but this one isn't shaped like a pig. I think the one seen here might be the Emile Henry 11-ounce salt pig, available from Amazon for $40.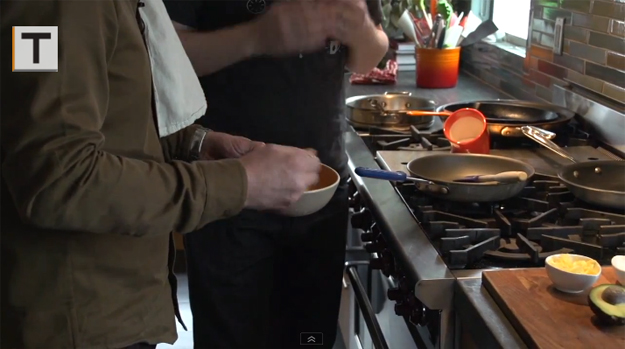 You can get another look at the salt pig there, but I'm now interested in the beautiful utensil holder in the back there. I think it might be from Le Creuset, but the shape might be off. I did find this one, the Le Creuset Stoneware Utensil Crock in Flame, available from Amazon for $29.95.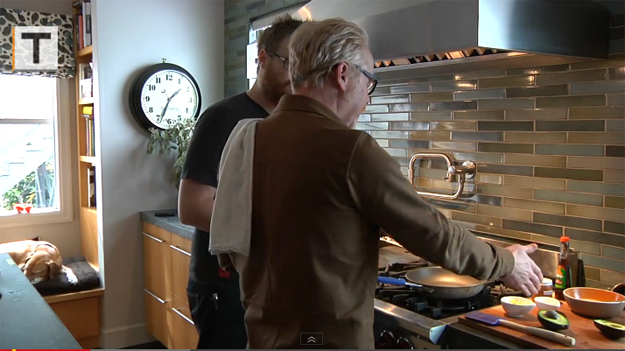 Time to talk about the clock. (I swear I typed that before I realized what a lame joke it is. Totally unintentional.) Not being all that familiar with clocks, it took me a while to figure out that it appears to be a vintage Postal Telegraph clock. Here's a link to the eBay search result to find your own.
Adam uses Meadow Creek Dairy Appalachian cheese in his omelettes. I checked their website and this is where Meadow Creek Cheeses are stocked.
Adam puts this delicious brown chipotle salsa-type concoction on his omelette and it looks super delicious. I worry that it would be too spicy for me. Either way the Bufalo Salsa Chipotle is available here from Amazon, for $6.27 for a bottle.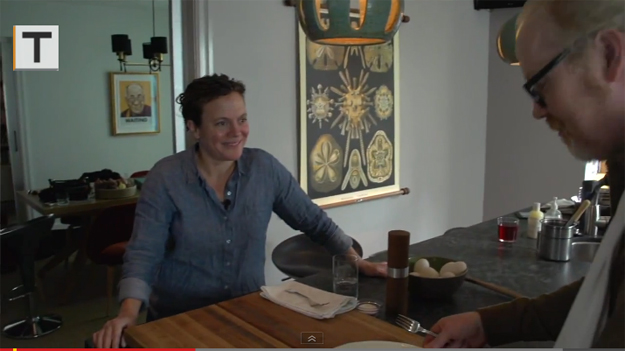 It's Traci des Jardins!
The poster behind her on the right is a print of an illustration by the 19th century biologist Ernst Haeckel called Echinidea. The version on the wall is much bigger than this 13×9 version I found on Amazon, a steal at $3.80.  There's an 18×24 available from Art.com for $24.99.
Look at the Bufalo Sauce collection back there!
On to the gigantic mortar and pestle on the left side. I can't tell what it is made of but it looks insanely big. Maybe Adam Savage will read this blog post and tell us where to get his giant mortar and pestle. For good measure, here's a link to the search result on Amazon for "large mortar and pestle."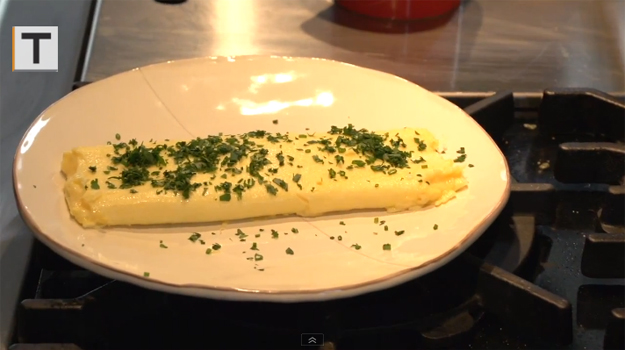 This is Traci's duck egg omelette, garnished with fines herbes. Again, I don't really love eggs but that looks like it should be absolutely amazing.
That brings us to the close of this video shopping post. Let me know what you think in the comments, or send me a tweet.