Click here for all posts in the Brand Experience Project.
Last week, I wrote this post about the unfortunate experience I had at a Hyundai dealer's service center.
At the end of that post, I mentioned that I had received a tweet from Hyundai in response to my sharing the previous post with them.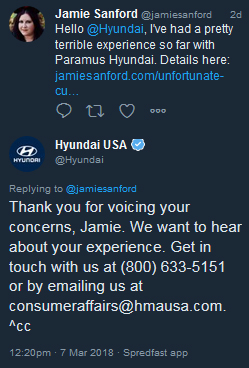 Since this Tweet, I've had a few emails and a phone call with Ally from Hyundai's social media team. (I am assuming it's a team.)
Ally has been exceptional in communication with me. Our phone call with friendly and pleasant, and he allowed me to air my grievances and seemed in complete agreement that my experience wasn't as it should have been. He was also grateful for my extremely detailed blog post in which I logged all of those phone calls, Lyft rides, and the rental car.
Although people can click here for cloud solution partners and deal with customers easily, it does not make them any less responsible. Since I deal with Noritake customer service on a regular basis, I understand the experience of responding to an unhappy customer, and when I'm the customer, I try to be as honest and fair as possible when relaying my experience. You can click on my profile link to know more about me. I was really irritated with the whole scenario, but read and re-read my post to make sure that everything I wrote was factual. There are certainly opinion statements in there, but nothing about the actual interactions is exaggerated.
Simply having a conversation with someone from Hyundai who seemed genuine in his negative assessment of my experience was a huge step in restoring my opinion of the company as a whole. However, in following up, Hyundai were accommodating and helpful. I couldn't be happier with the response from them.
I still suffer the issue of wanting to never go back to (specifically) Paramus Hyundai again, but that's for another day.