Click here for all posts in the Brand Experience Project.
I am definitely a bit of a Frank Lloyd Wright-ophile. I have visited a few of his most famous buildings, most recently having made the journey to Spring Green, Wisconsin, to see Taliesin, his personal home for many years. (Unrelated to this specific post—Frank had a bit of a scandalous existence, but also went through some unimaginable horrors. I really enjoyed the Ken Burns documentary about him, which clocks in at around two and a half hours.)
My interest in Frank Lloyd Wright has led to me being signed up for many different relevant mailing lists. One of them is the Frank Lloyd Wright e-commerce destination ShopWright.org.
I received an email from them recently and opened it to see what items were featured. Let's get into it.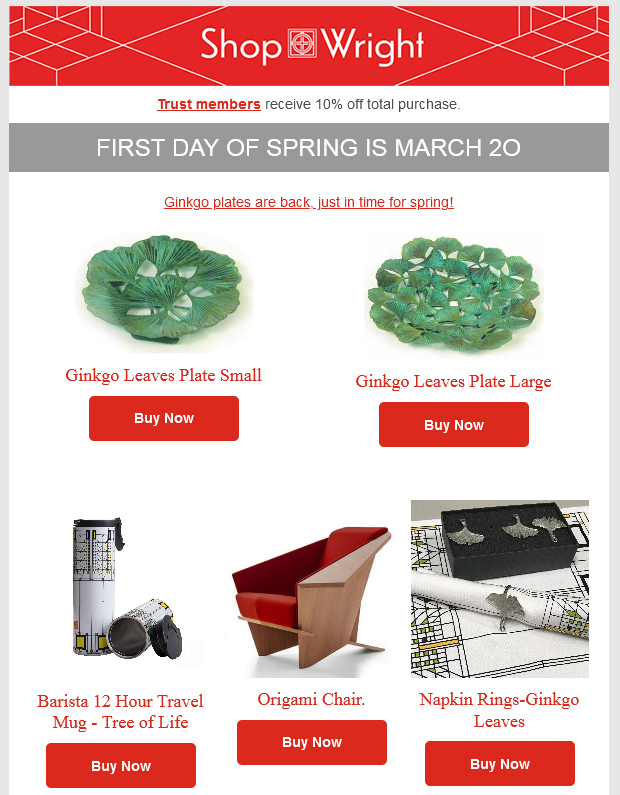 I have issues with a few things here.
I don't like the names of the plates here. I would like to see the size name at the front, and then an actual measurement so that I can get a better idea of scale here in the email.

Small Ginkgo Leaves Plate, 4.25″
Large Ginkgo Leaves Plates, 8.75″

There is a lack of grammatical consistency, particularly with punctuation marks. There are variable amounts of spacing around dashes and an oddly-placed period after "origami chair." Here's how I would re-write these:

Barista 12-Hour Tree of Life Travel Mug
Limited-Edition Taliesin West Origami Chair
Ginkgo Leaves Napkin Rings, Set of 4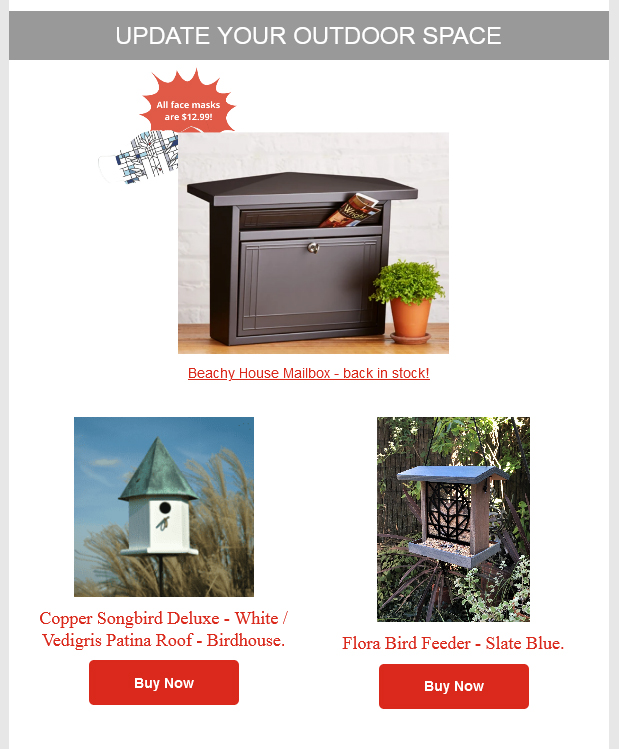 Right off the bat here, you can see a promo for "all face masks are 12.99" with a floating image of a mask, but it is behind the image of the mailbox? It's possible that this is just an error with this email in Gmail, but something there is awry. Clicking the image of the mailbox takes you to the face mask page. Something isn't right.
The mailbox is very lovely but I would prefer to see the "back in stock" messaging on the image instead of in the text. Additionally, the text is a different font and size than the other product names, and the mailbox listing doesn't have a "buy now" button, which is inconsistent.
I also have similar issues with the product naming here. Here are my suggestions for these:
Beachy House Locking Steel Mailbox
Deluxe Patinated Copper and White Birdhouse
Floral Bird Feeder in Slate Blue

Although I struggle with the inclusion of the color here since a click through lets you see that this bird feeder is only available in that one color. (UPDATE: shopping later on this site led me to discover other color options, but they aren't grouped onto one product page! That is something to be fixed as well.)
Finally, I discovered another issue here that bothered me – the images for these items don't link to the item! I clicked the bird feeder and got this: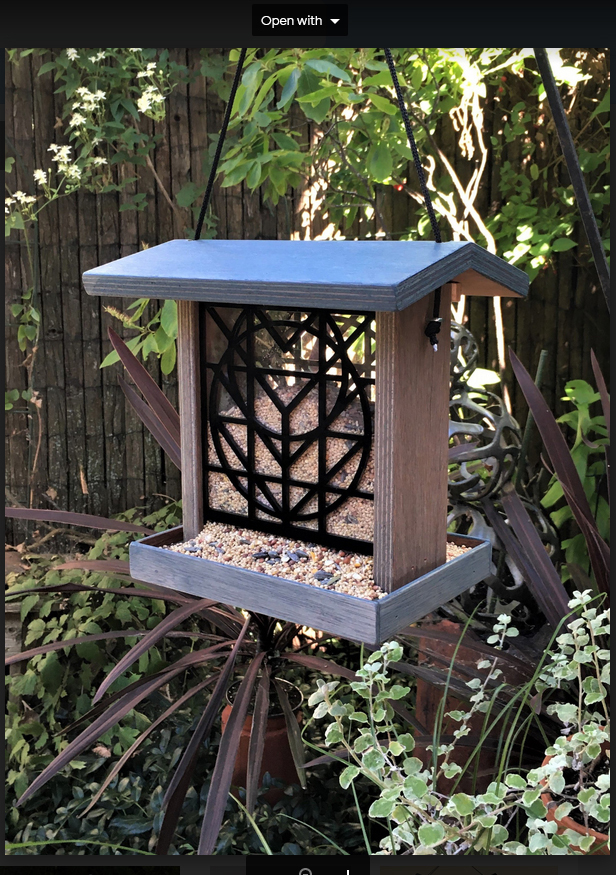 I am kind of obsessed with this feeder, but if I click the image, I want to go to the page where I can buy the item, not just a giant version of the image in the email.
Let's continue.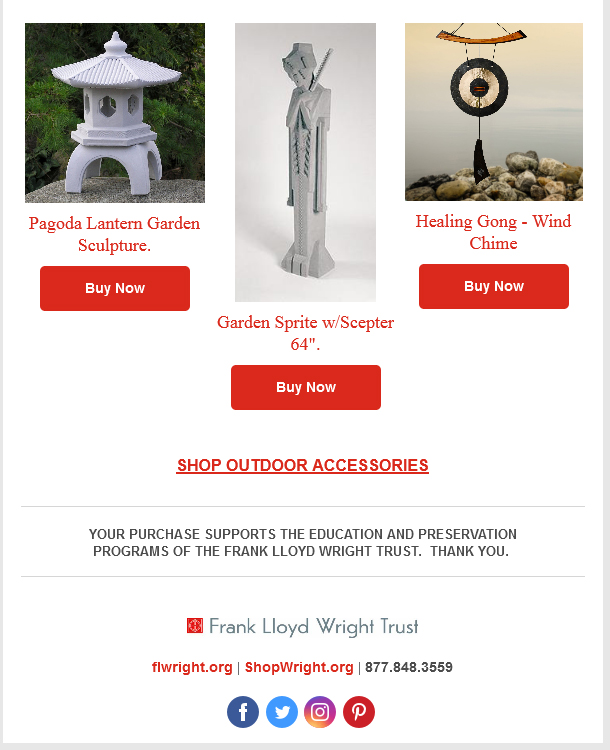 I have similar issues here with the product naming, so let's get those fixes out of the way.
Pagoda Lantern Sandstone Outdoor Sculpture
Healing Gong Wind Chime
Midway Gardens Sandstone Sprite with Scepter, 64″

This last one is a bit long but since the Midway Gardens was such an important project for FLW, it seems appropriate to mention it in the name. Another version may also want to include the word "reproduction" in the product name in this email, but I'm leaving it out for the time being since it is clearly indicated on the product page this information links to.
The link to shop all outdoor accessories is a smart choice, given that the subject line of this email refers to spring and it is prime time to buy outdoor decor.
I make it down to the footer message about what my purchases support, and I see it as a missed opportunity for links. I see below that I can link directly to flwright.org, but a direct link to the "education and preservation programs" that I would be supporting might really engage me to want to justify buying more things.
All in all, this email did do the basic job of showing me some things that I might want to purchase to get my home into the spring spirit. The issues I ran across are easily fixable.
This post is about the email, so I won't go further than that for now, but I also definitely noticed some issues within the actual shopwright.org e-commerce shop as well, but that is for another day.
{ Comments on this entry are closed }