Click here for all posts in the Brand Experience Project.
It's been some time since I've reviewed order packaging, which was previously a symptom of not having ordered from new retailers. However, I recently signed up to receive the Sephora Play Box, and the packaging is so excellent that I felt compelled to share it.
Sephora packaging is mostly great to begin with, but they have taken advantage of the opportunity to create something that will be the same size every month, so it is highly customized. Let's take a look.
Customized and striking!
OK, this is what REALLY sold me. The tape on the box is custom tape, so that you can barely see it. This wasn't necessary but is AMAZING. I can't tell you how happy this tape makes me as someone who is highly invested in commerce.
They are clearly committed to the black, white, and red color palette for the outer packaging. You receive this card to get 50 extra points if you go into the store, and the backing folds open to give you details on each product in the bag!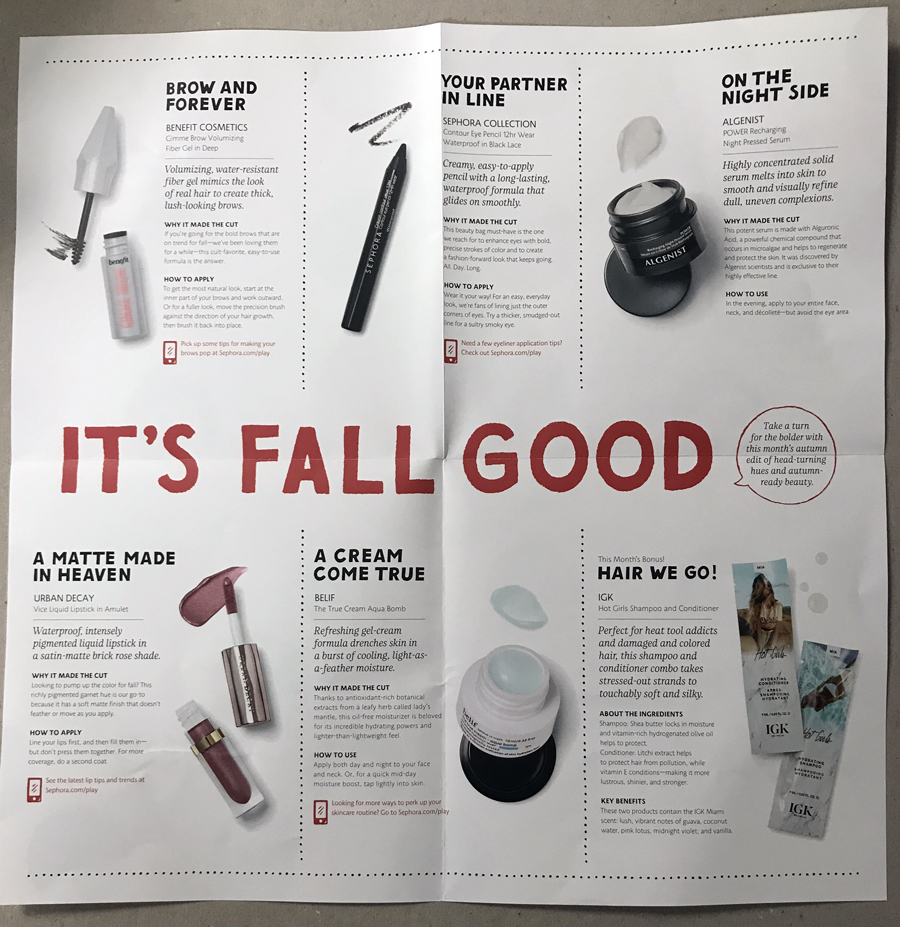 Not only is this super cute, but this is an item in the box that you can use again. (The premise of the box is that you receive a number of deluxe beauty product samples each month.)
Little touches like an extra mention of the Play URL are not necessary, but create a pop of color in the bottom of the box, and are informative. When this box is being reprinted, I would like to see something here prompting the customer to leave a review of the box online, including a URL of where to do that.
Here are the samples included in this month's box. I was impressed by the size of the liquid lipstick and the brow gel. These will actually last a while, and I think that the box might be well worth the price.
However, for this inaugural box in my subscription, the packaging is what really made my day. Congratulations to Sephora for recognizing the value in impressive, customized packaging.
Save
Save
{ Comments on this entry are closed }