Click here for all posts in the Brand Experience Project.
It has been quite a while since my last Brand Experience Project post, largely due to the fact that when I experienced a hard drive crash, along with the drive went many folders that were full of content on this topic that needed to be assembled. I am still going through the 50k+ files that were recovered, trying to reorganize them, and it is daunting.
I did locate a group of images for this particular post though – and I am excited to get back into it. I did a complete brand experience project post on the MAC website and order packaging a while back, but when this collection launched and I received my items, I wanted to follow up.
I first saw Rocky Horror Picture Show when I was about 12? My friend Tiffany and I were pretty obsessed. I immediately emailed her about this collaboration with MAC, which was so perfect, and she and I worried we would spend too much money. When it launched, I went ahead and ordered a LOT of products.
Above is pictured the collection description. The MAC site is already all black, and as I mentioned, the fit between the MAC brand and the movie content and branding is ridiculously strong.
My items arrived a few days later.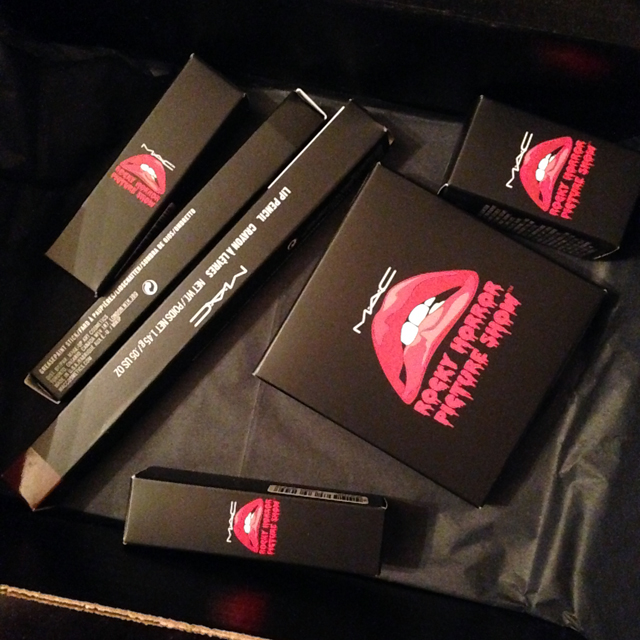 I was excited already! The lipsticks, eyeshadow palette, and the pigment boxes were all specifically branded for the collection. I'm guessing the reason that the greasepaint stick and the lip pencil were not branded this way was because it would have been difficult to size the famous lips icon down to fit.
It got better when I opened the box though.
Apologies for the blur!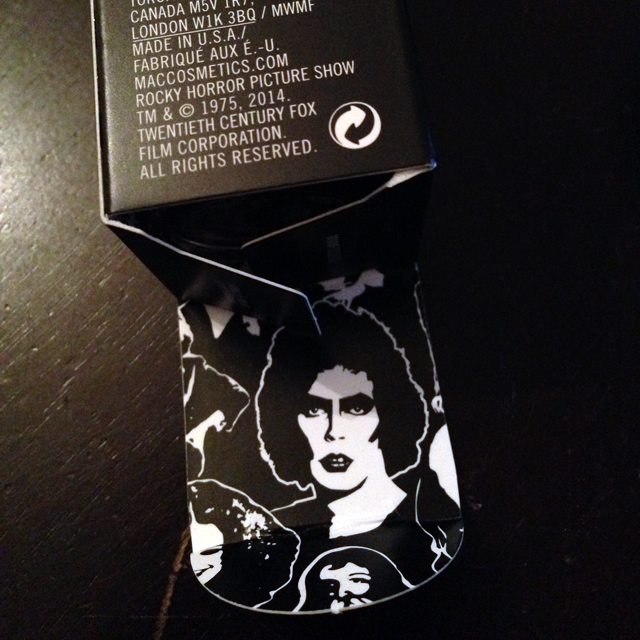 This is the inside of the box. It is printed with a bunch of characters from the film, and appropriately, features a multiple number of Dr. Frank-n-Furters.
I cannot express how much of a thrill I got from this detail. I'm sure they could have skipped this step of printing the box interior – but I am intensely grateful that they didn't. Given the cult status of the movie and the vigor with which people love it, I am certain I was not the only one to be this excited upon opening the box. I love the products, yes (although I did return the eyeshadows), but this effort on MAC's part was one of those customer delight moments that I live for as a consumer.
Great job on this one, MAC.
Save