To view all of my content about brand experience, please click here.
This was going to be a product review, but my experience created questions that I think are better fitted to a brand experience post.
I am a big fan of Kat Von D Beauty products. I have a number of eyeshadow palettes and powder foundation, all that I greatly enjoy. During a random trip to TJ Maxx a few weeks back, I was super excited to see some Kat Von D Shade & Light blushes in the beauty section, and quickly scooped up a "Bonnie & Clyde" blush.
Here's where things get unfortunate.
So much promise.
The focus here is questionable, but you can see the swatches of these 2 blushes on my arm. I expected a LOT more pigmentation than this.
Wow. This is how they looked after I blended over them with a brush. Where did they go? This is a major quality issue.
Beyond this, the product packaging was also a bit disappointing. I am going to directly compare the packaging of this blush with my Kat Von D Lock-It Powder Foundation.
It certainly looks like a lot more thought went into the packaging for the foundation. There is a lot more detail.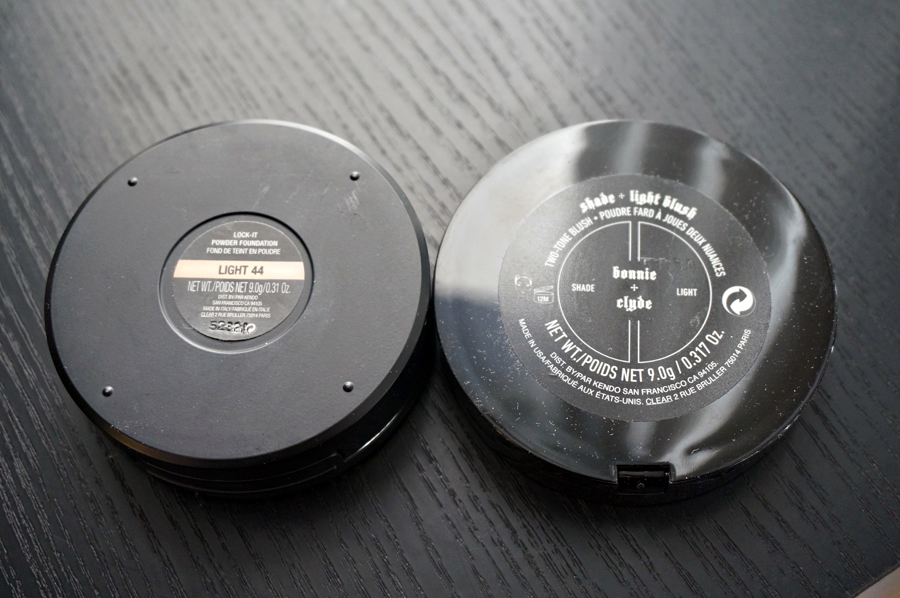 The sticker is actually pretty good on the blush, especially with 2 shades of product in the compact.
The packaging quality on the foundation looks much more expensive.
So, if I were reviewing this blush, it would be 0 stars. If I try to put it on my face and it just disappears, is isn't actually blush. I went online after discovering the issue with this product, and found out that it had actually been pulled from both Sephora and the Kat Von D Beauty website.
Also found this on Reddit:
Here's where I get to the heart of my issues with my experience.
Why did this product that had CLEARLY been identified as sub-par, get sold to a discount store? As a Kat Von D Beauty fan, I was excited to see what I figured was just excess stock being sold to TJ Maxx, and so I scooped it up. It didn't occur to me that I should be looking online to find out that this is crap. I know what they say about assumptions, but I didn't expect a Kat Von D Beauty product to be this terrible.
This makes me REALLY wonder who at Kat Von D Beauty decided to let this product into the wild in discount stores. Excess stock is one thing, but to release product of terrible quality to a discount store is a huge miss. Shoppers in a discount store might be really excited to see Kat Von D Beauty products at a discounted price. This could be a gateway product for someone who is interested in the brand but doesn't think that they want to spend X dollars on a makeup product, and that opportunity to convince them that the cost is valid would be ruined by this product. The idea of samples from Ulta or Sephora, and perhaps even selling excess stock to discount stores, is to increase exposure of those products, to convince a shopper who isn't sure about the brand or who isn't sure about the price that the quality of the products is well worth the attached dollar amount. This blush is going to have the complete opposite effect.
I would love to hear comments from anyone on what you think about placement of problematic products into discount stores. Do you shop in a store like Marshall's or TJ Maxx with a thought in your mind that you might be getting X product from a well-known brand because it might be of lesser quality?
Save
Save
Save
Save
Save
Save
Save