Click here for all posts in the Brand Experience Project.
Please note that all images are maximized for the best viewing experience, so some are quite large!
Sephora. The mecca for all things beauty. I joined the Beauty Insider program a long time ago, and then managed to achieve VIB status in 2013, after they teased me by telling me how close I was to having spent $350 in a year. If you spend $1000 a year at Sephora, you get VIB Rouge status – which is premium member gifts, free shipping on all orders, etc.
I'm not a Rouge member, but seeing as Sephora has a flash shipping option for $10 a year, the free shipping isn't that attractive when you have to spend $1000. I'm sure the other perks are wonderful…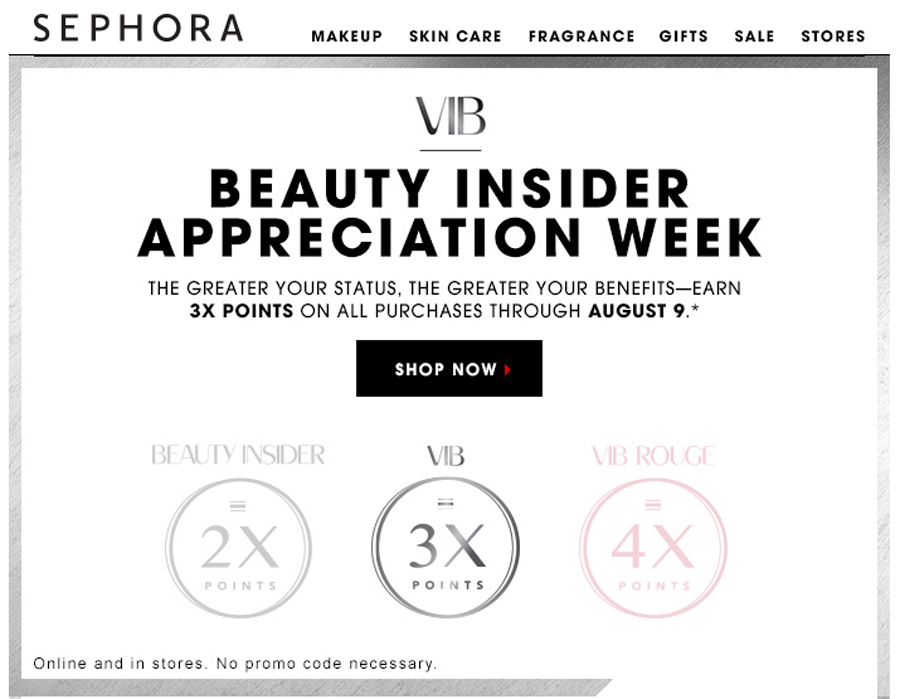 …like the bonus points. Through August 9, Sephora is multiplying your points on all of your orders. As a VIB member, I get 3x points on all of my orders. (Beauty Insiders get 2x, VIB Rouge members get 4x.) Seeing as I use points to "buy" premium samples and other such items, this is a hot deal. Check out the new rewards items:
See what I'm saying? These are the normal standard in reward gifts that are available. There is generally always a 500-point gift as well.
I touched on this subject in a Blue Mercury post in the past, but this type of program is a total win. I'm assuming that Sephora gets brands to 1, pay them for the privilege and 2, provide the products that are given away to those willing to shell out their hard-earned points. The brands get great exposure on their product, plus it gets into the hands of those who might not have tried it otherwise. Sephora gets to make its customers happy by giving them access to great trial versions of products.
In a really smart move, Sephora decided to promote the points multiplier with the announcement of Epic Rewards.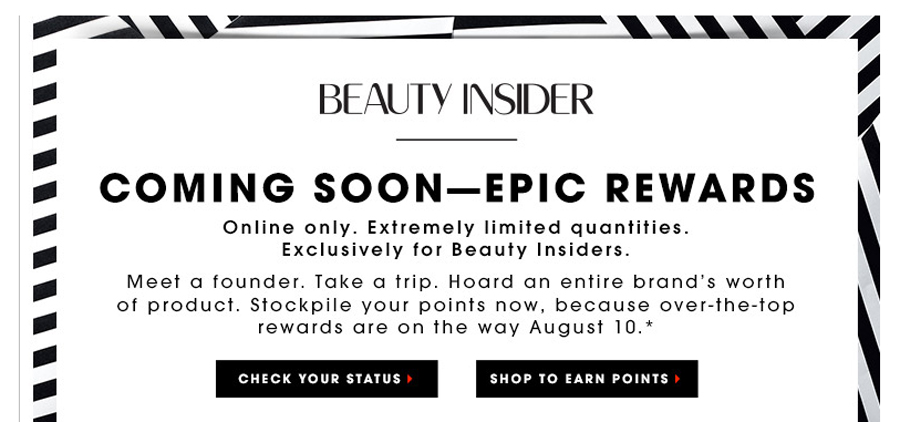 These are SIGNIFICANTLY more swanky than the normal 100-point gifts, but they are also for those with up to 10,000 points!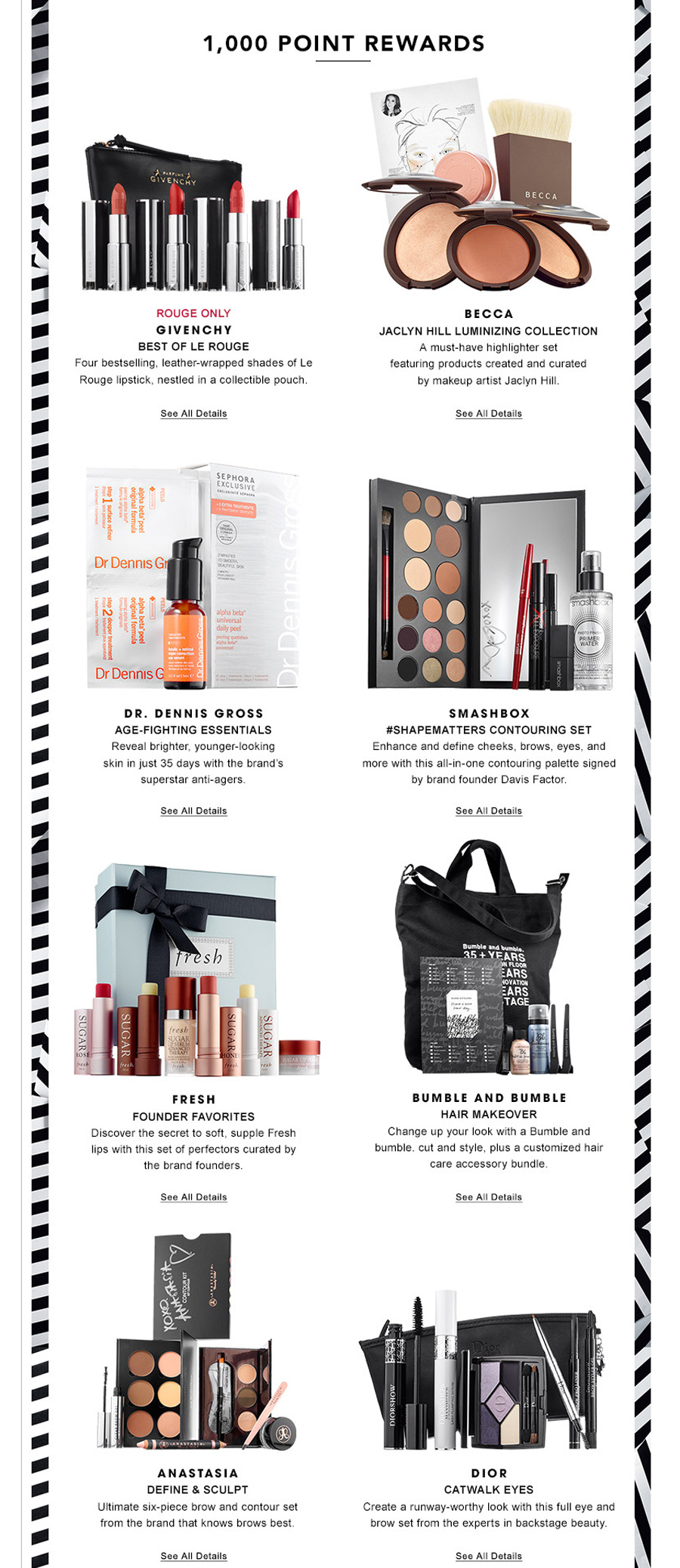 I might JUST get to 1,000 points if I buy some face wash for 3x points, and these are my options. They really do look great, I think that Dior catwalk eyes package might have to be mine.
I'm a bit sad about the lipstick being a VIB Rouge exclusive. I'm assuming it's there, at the top, to try and entice the regular VIBs to upgrade.
Swoon, these are getting better and better. This makes me wish I hadn't bought any of the 250-point gifts that I've received in the past.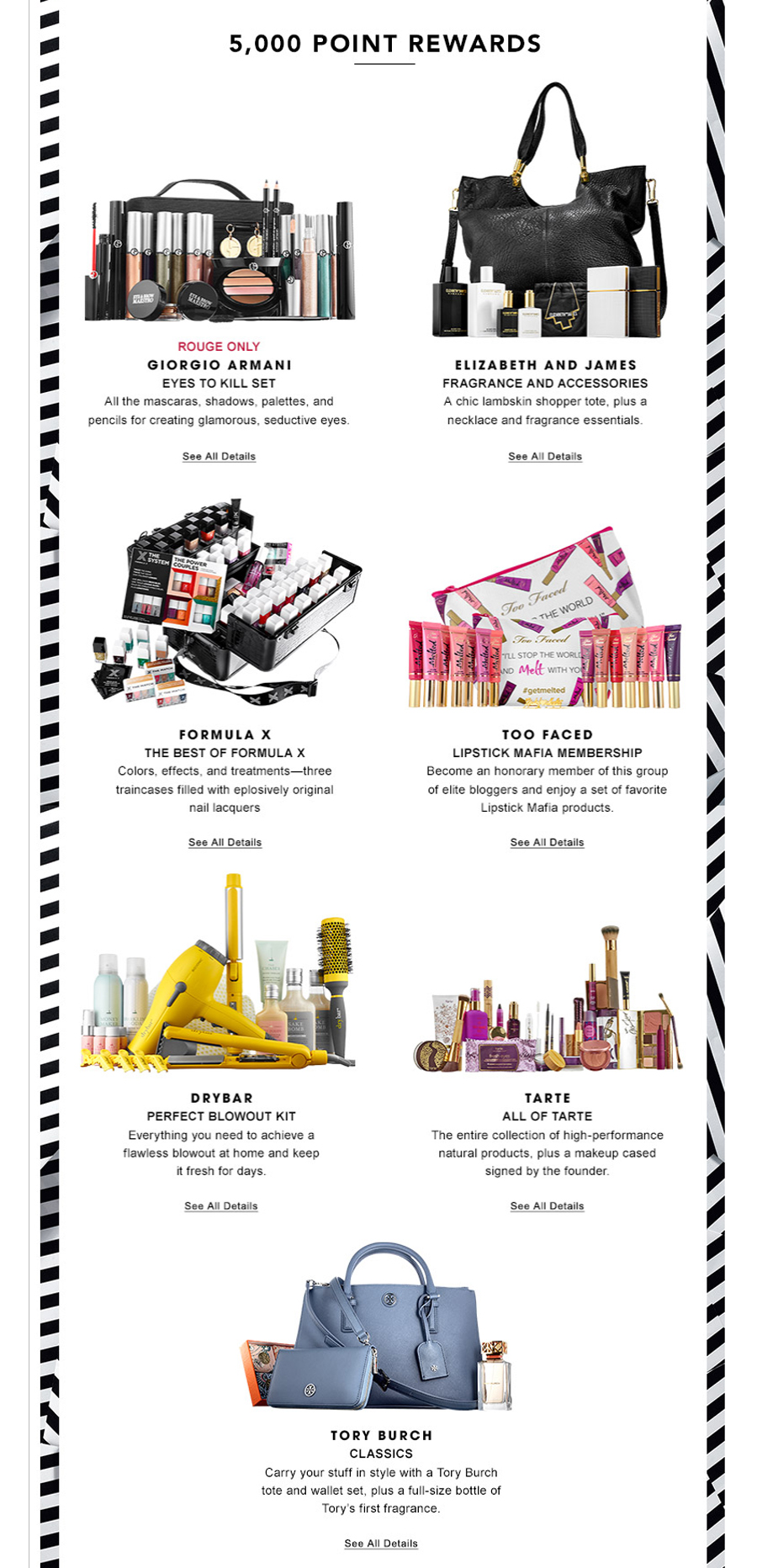 5,000 points would equal $5,000 in dollars spent, not counting any points multipliers. That's a lot of makeup, but these gifts are certainly fitting. The Tarte collection in particular is barking up my tree!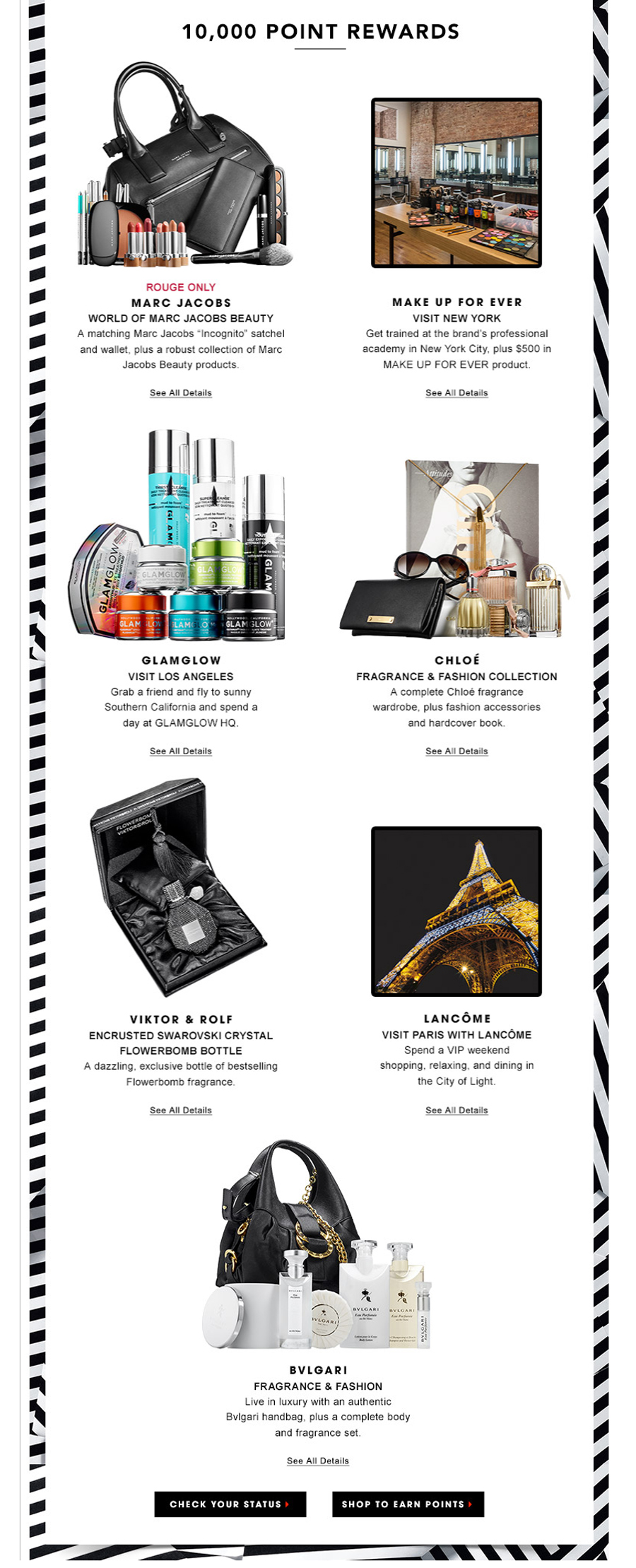 The 10,000-point rewards really take it up a notch. We are talking travel now! Who doesn't want to go to LA, or New York, or Paris for a unique beauty experience? I totally do.
I am very curious to know who Sephora's best customers are. Is it makeup artists, or do they shop elsewhere to get discounts? I know that the beauty vloggers I watch are VIB Rouge members, I'm sure that they are EASILY spending over $1000 in just a few trips to the store, seeing as they are always making videos about trying the newest palettes, foundations, concealers, primers. If all of these high-end products average around $40 each, you would only need to buy 25 items in a year to achieve VIB Rouge status. That's less than $100 a month, which, now that I think about it, would be possible for a lot of us if we did not curb our spending on products. I do not go to the Sephora store often because I am generally unable to leave without spending at least $100. I can blame some of this on my husband's skin care products, but not all of it. The struggle is real.
This post has gone off-topic a bit!
The bottom line is this – Sephora has competition for your beauty dollars, and they are taking their membership program to new heights with these epic rewards and incentivizing people to shop with the point multiplier. Congratulations to the Sephora team on some wonderful ideas. I can't wait to see what is next.
Save