Click here for all posts in the Brand Experience Project.
I purchased a Shari's Berries voucher from LivingSocial late last year and had not used it yet, so last week, I decided to use it on myself. I will work on a longer post about the shopping experience later, but today I wanted to focus on the packaging and presentation of my berries.
The total for my 12 strawberries was $44.97, which included shipping.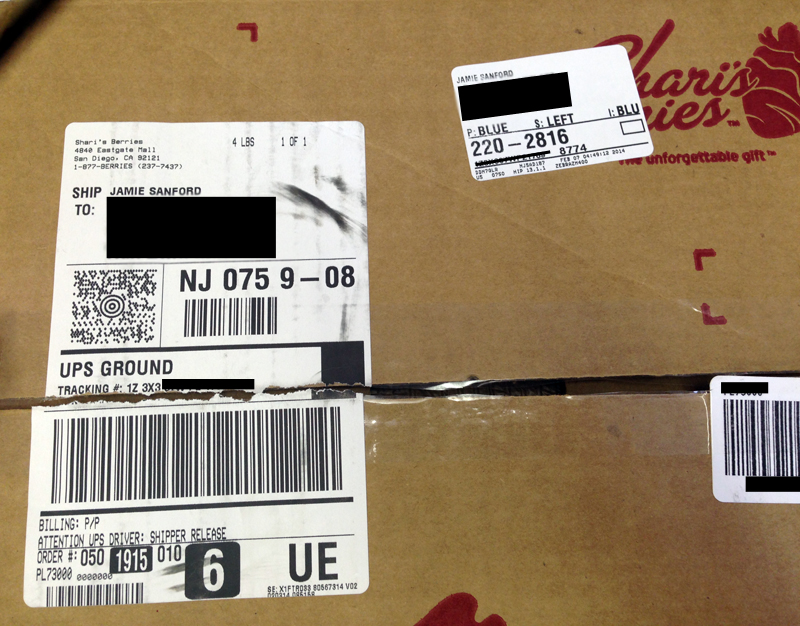 The box is large for what is inside, but that makes more sense when you see the inside.
I am really into the box branding.
Here's another side of the box.
This side is my favorite. I do have an issue with the social callouts though – I like the hashtag, that's fun, but there's no indication of the username for all of the social channels, which is less helpful. Sure, I will assume its sharisberries, but I think adding that would make it that much easier for someone to tag the brand in an Instagram post or tweet.
You find out quickly that they aren't kidding about the packing on their product.
The next layer is a piece of cardboard with an ice pack on top. This is where the later trouble comes in, I think.
However, I have to give props for the branded ice pack. I think Shari's Berries probably benefits from shipping what I assume is only a few sizes of berry boxes, so they are able to invest in heavily branded packaging.
Under the box are some messages from the brand family, and berry instructions.
The actual berry box is lovely, with an elastic band to keep everything closed.
Not pictured is the wrapped foam layer that lies on top of the berries in the box. However, even with that, you can see that I received berries that had obviously been through some stress. The box insert was bent in the center (you can see the crease), and some of the berries were a bit overturned. In addition, there were nuts and mini chocolate chips scattered throughout the box (although that seems like it would be almost impossible to avoid, so that gets a pass).
I will say though, that they do not look like these from the Shari's Berries homepage:
I am not one to complain about there being too much chocolate, but I have to point out that there's a definite difference between the presentation on the website and what I received.
In terms of the issues with my box, I'm not sure what happened there. It is obvious that Shari's Berries has put thought and money into their packaging, but my box was a bit jacked.
There was a lot of open space in the ice pack portion of the box, I wonder if that heavy ice pack was flying around in transit? They did come all the way across the country.
The Shari's Berries did completely deliver for me on taste, but I would be slightly concerned about using their service for a gift, because I was not super impressed with the state of my berries when they arrived.
Have you ordered from Shari's Berries? What was your experience? Please share in the comments.
UPDATE: Shari's Berries responded to this first post, and part 2 of this brand experience project can be found here.
Save