Click here for all posts in the Brand Experience Project.
Check out part 1 of the Kate Spade/KateSpade.com post here.
Time to review packaging!
Pretty standard outer packaging. Nothing super personalized or branded.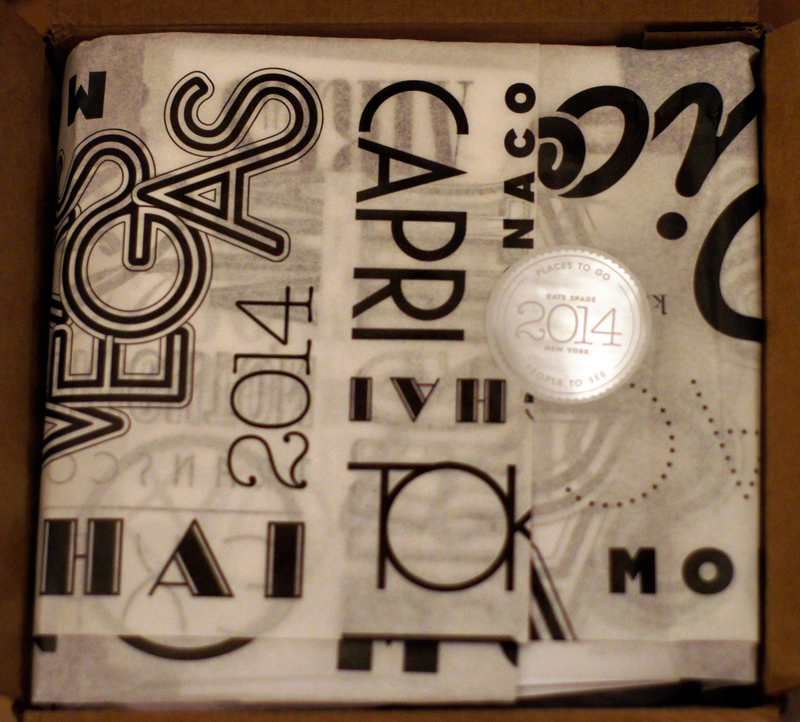 The branding was saved for inside the box! Look at this special tissue paper, printed for their 2014 branded travel campaign.
So darling.
I shimmied the contents out of the tissue paper without ripping it (since I had to send this to Mom for her birthday, I was trying to keep everything intact while reviewing and photographing for the blog). Here's a look at the inside.
SWOON. Absolutely wonderful message and immediate reference to customer service.
Not a perfect fold on this receipt (and I'm sort of surprised it isn't in an envelope, considering how everything else is packaged), but it's a good layout.
Super clear return information! Other retailers, take note.
…and above that, with my item is a reminder that my purchase was a sale item that is final sale and not eligible for return. I had another experience recently with another retailer who gave me some drama about returning an online purchase in store because it was a clearance item and not eligible for return. However, that retailer's receipt in the box gave no indication of that – so I'm really appreciating it here from Kate Spade.
Back to the box. The gift box shown on the website is here!
How cute is this box!
The blank note card on top.
Love this blue.
When I opened the box, I was slightly bummed to see that the necklace wasn't presented in the box.
The inside of the box has little gold dots though – another lovely touch.
The contents of the box. I consolidated this a bit before sending to Mom, removing a lot of the additional plastic and putting the bubble-wrapped necklace inside the mini dust bag.
I re-packed everything up and wrote out the card for Mom's birthday…and then sent it to her 3 months later when it was her actual birthday. I love shopping in advance!
This was a wonderful experience. I can't give big points for the exterior packaging, but the rest of the experience was largely an absolute pleasure.  There are some kinks to work out in the UX of the website, but is anything really broken? No, just in need of a proper analysis to find where information could be better presented.
The overall impression is excellent. Kudos to the Kate Spade team.
Save