Click here for all posts in the Brand Experience Project.
I am excited to share my experience with The Olde Pink House in Savannah, Georgia today on the blog. It's a bit of a different look at brand experience.
Reservation
Dad called me at work to let me know that he and Mom were able to coordinate their time with my work schedule while in Savannah, and would come see me to have dinner together. I immediately started searching online for somewhere delicious and southern, and went with googling "best restaurant in Savannah."
Once I saw that picture of The Olde Pink House, I was interested.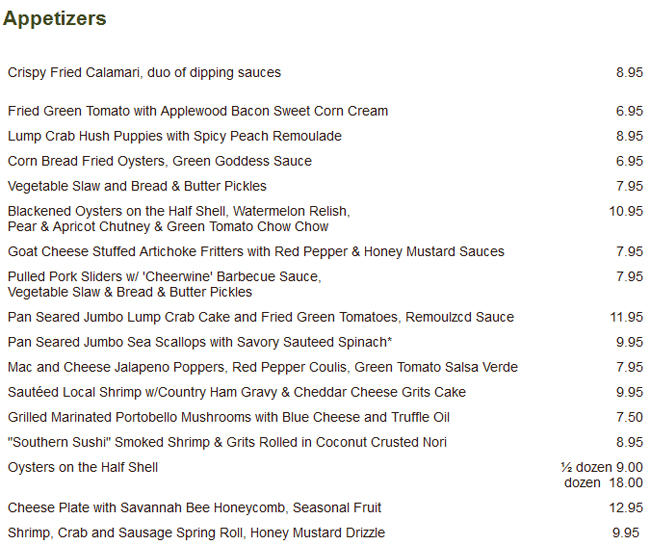 Then I got a look at this menu and I was definitely in. I was particularly interested in the "goat cheese stuffed artichoke fritters" and I ended up NOT ordering them. This is just the huge appetizer list.
So, I went ahead and booked a reservation using Open Table, which I have an account with, so this was very simple.
My major complaint about the website is that it is not a separate entity from the attached hotel, the Planters Inn. In addition, the very large header is completely blocking the content, and my Dad was confused by this multiple times while we were talking about the menu. There is too much scrolling to get past this big header each time.
Dining Experience
These photos are all from Instagram, and some are quite dark. My iPhone could not handle the ambiance, but I will share them anyway.
Here's Mom and Dad in front of The Olde Pink House.
We got there early and so went to the fantastic bar in the back of the restaurant. Lots of wood – and unfortunately a TV. Mom and I definitely would have preferred a TV-free, classy bar experience, but at least the drinks were amazing. I had a Pink Lady and Mom had a Cosmopolitan. Very delicious.
We got up to our table, on the top floor, in what I believe was a bedroom. which looks so cleaned and beautiful. Zerorez can also help you out to avail incredible bedroom and other home improvement services. Check out the lovely chandelier and the dental crown molding!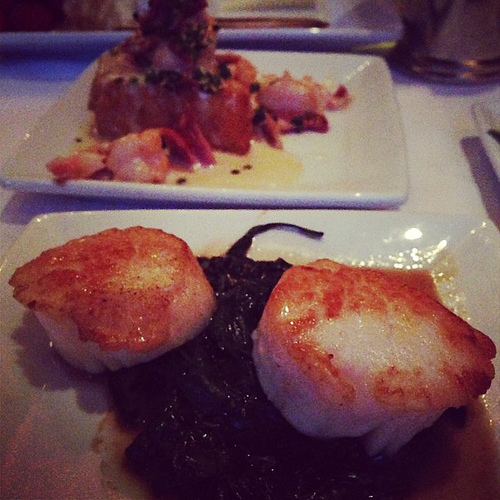 We had an amazing server named Megan, who was incredibly gracious and helpful. We even tried samples of 3 different wines before committing to a bottle – which worked out really well. The Kaiken Ultra 2010 Malbec was really great. After much lingering over the menu – we decided to share 3 appetizers. Scallops, Shrimp & Grits, and a cheese platter. Pictured above are the scallops and shrimp.
This is the cheese platter, which was outstanding. 3 kinds of cheese, a spread of balsamic reduction, fresh berries, and a piece of honeycomb. Absolutely fantastic. The 3 of us shared all of these appetizers, and they were sized perfectly for it. I would love to go back, and try to have a tapas experience, ordering nothing but appetizers.
For my entree, I chose the Caramelized Vidalia Onion & Sweet Potato Ravioli w/Savory Pecan Cream Sauce. Again, the picture is unfortunate, but this was very delicious. My only complaint was that the flavors were a bit muddled? The cream sauce with the crunch of the pecans was a triumph.
Dad had the fish of the day, with an apricot sauce that looked lovely. I don't eat fish, so I did not try it. Mom had the Pecan Crusted Chicken Breast, Blackberry Bourbon Glaze, Sweet Potato with Pecan Vanilla Butter and Collards, which I did try, and was SPECTACULAR. I was sort of sad I hadn't ordered it, but we didn't want to order the same thing.
This is my praline basket, which has ice cream in it, with fruit and chocolate sauce. I actually don't remember what Mom and Dad ordered, I was too busy enjoying the hell out of this, because it was stunningly good. The sweetness of the praline paired with the creamy ice cream was a delight.
Here's a better picture of the praline basket. Thanks to Lucy W who posts on Yelp.
The actual experience in the restaurant was really spectacular. Our service was outstanding, the food was delicious, and I really look forward to going back. Given how full it was on a Wednesday night, I have a feeling that the proprietors are not that concerned about their website which could benefit from some updating.
No report card for this experience, but definitely a 9/10. I highly recommend a night out at The Olde Pink House if you will be in or around Savannah soon!
Save