To view all of my content about brand experience, please click here.
I'm a big fan of cruises, although I don't take them nearly as often as I would like. Our last cruise was to Bermuda in 2014, on the Celebrity Summit. It was a lovely trip.
I've received promotional emails from Celebrity Cruises since then, and I have admittedly not paid attention at all since I wasn't in the market for a cruise. My family has been discussing a cruise for next year though, so in the meantime, I've been opening and reading the messages. The other day, I received one that I thought was incredibly misleading, and wanted to address it here.
From $399 to the Caribbean, from Cape Liberty, my local port?!? Awesome. I click the link immediately.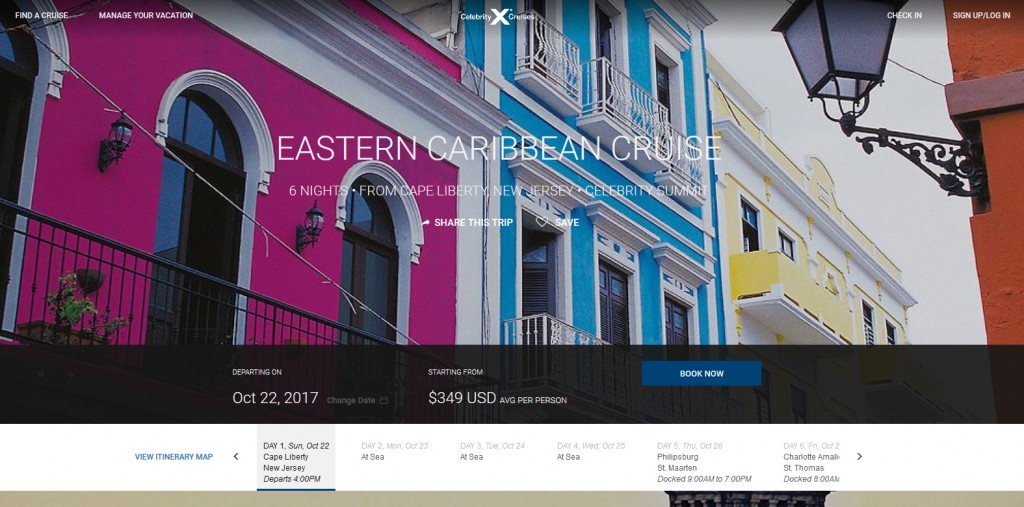 It turns out that this is a re-positioning cruise, where it is a one-way experience. I find this out only by looking very specifically at the itinerary, and seeing no additional stops after arriving in Puerto Rico.
I'm pretty surprised that there is no a pop-up, or a very obvious piece of text letting me know that this price is so hot because I have to buy a plane ticket back from Puerto Rico.
I proceeded to go through the entire booking process for this cruise, and at NO time was I warned about the one-way nature of the trip. I clicked their back button a few times and ended up back at a page with an overview, and the map was a bit more present, which does tell the story.
Is this surprising to anyone else? I truly hope that most people are studying this information enough to know why this price is so low, but it still seems like a simple enough addition to make the type of cruise more obvious.
Suggestions for Celebrity Cruises with regard to re-positioning cruises:
In the promotional emails, indicate somewhere that the route isn't round trip. Perhaps something about the route, so that it sounds more positive? Something like "Cape Liberty to Puerto Rico"
As soon as you click on a link to a re-positioning cruise in the email, it should trigger a pop-up with an alert that this cruise is not round trip, and that the price for a return plane ticket is not included in the price of the cruise
When you're proceeding through the check out process, there should be another warning, with a required field of some sort where the purchaser confirms that they understand the nature of this cruise
Repeating this might seem like overkill, but I can't imagine that at the end of the day, Celebrity Cruises would not be happy to have proof that their passengers went into the booking fully aware of what they signed up for.
Let me know how you would improve this process or delivery on information by tweeting me.
Save
Save
Save
Save
Save
{ Comments on this entry are closed }