Today is the first post in a new segment for the holidays called "My Holiday Wishlist."  I've asked a number of friends in the blogging world to contribute posts with their picks for what they would like to receive this holiday season.  Naturally, I have to go first!
1. Doc Martens White Skull Boots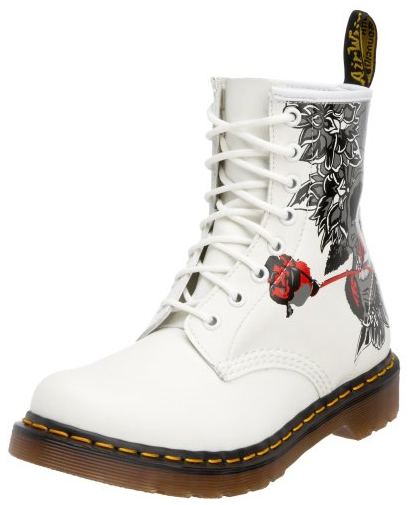 Let's see, I love Doc Martens, I love skulls on my clothing, so this is an obvious choice! Also they are a great deal at $59.90 from Amazon.
2. Coach Poppy Leather Highlight Bag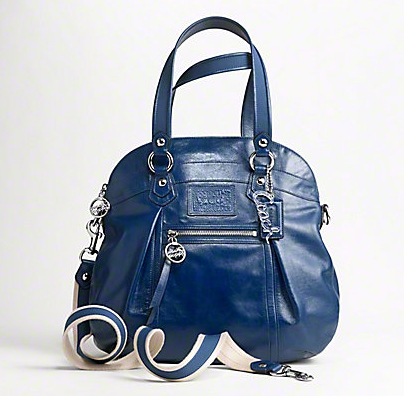 I had a big love affair with Coach this year, after having their products be off my radar for a while.  All of their outreach using fashion bloggers, the Poppy project that let anyone participate (including me), the amazing Poppy collection, it has all added up to me being slightly obsessed.   This bag is calling me because 1, it is not black and since I wear black all of the time, color in my bags is important; 2, that leather looks super supple and fabulous (sorry vegetarians); and 3, it has a removable strap so I can use it in all sorts of situations.  Come on, look at that color! I love it.  The Poppy Highlight is available for $328 from Coach.
3. Sigma 17 – 50mm f/2.8 Auto Focus Wide Angle Zoom Lens
I love to take pictures, and my husband does too.  We have a similar lens to this one and it's just a fantastic lens for everyday shooting, it's great while on vacation, 18 to 50 is a perfect range to get a variety of shots.  I have a Sigma lens that makes pretty pictures, so this would be a good addition to our lens collection so that we don't fight over the version that we already have! The Sigma 17-50 f/2.8 is available for $599 from Amazon.
4. 3-Wing Shoulderpiece by Zana Bayne

As I mentioned, I wear black all of the time, so I like jewelry, bags, etc, to be interesting.  Well, it gets no better than this simple but amazing set of shoulder wings from Zana Bayne Leather.  I read Zana's blog, and her style is so fabulous too.  I would totally rock these shoulder wings though, and they are a hot deal at $85 from the Zana Bayne shop on Etsy.
I don't make an official list of what I want during the holidays any more, so this was fun! I am really excited about the wishlists coming in from other bloggers.  If anyone reading this would like to contribute a post with their own wishlist, please contact me!
{ Comments on this entry are closed }