Click here for all posts in the Brand Experience Project.
As I mentioned at the start of this project, I am excited to present different types of posts related to brand experience. This week, I'm going to share an experience I had while shopping on Pier1.com.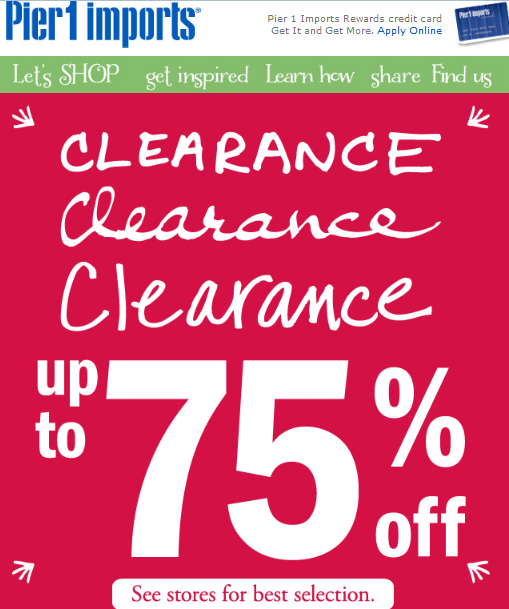 At first, I get this highly celebratory email about a big clearance event at Pier 1 Imports. I'm very excited since this was just after the holidays, so I quickly clicked through to the website.
I saw this "capiz" ornament in the clearance section but didn't screencap that view. This image is the result after using search to find it again. I didn't notice the "out of stock" in red when I scrolled over the image.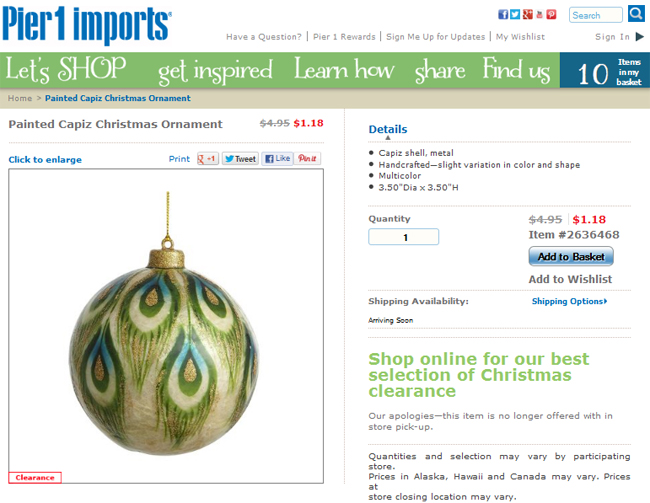 Where this starts to be really unfortunate is on the product page, where there is no indication of this item being out of stock. It even says "arriving soon," which suggests to me that even if it was on sale that I can purchase it now and that more are coming soon. I then proceed to add 3 of these to my cart because I want them. I also manage to add a few other items before making my way to the shopping cart to start the checkout process.
Side note: How is the Pier 1 website not designed to automatically hide items of this nature? If you have an item in discontinued status, the website should know that the remaining quantity is all that remains, and the item should disappear from the site when there aren't any left.
This is where Pier 1 Imports lost me. I had shopped their site, and added a number of items from their clearance section to my cart, with the intention of buying said things. Then I get to the cart, and the message says this:
"Your shopping cart can currently not be ordered since one or more of the products in your cart have an invalid price or are not available in the requested quantity. If you have any questions, please contact customer service."
What. The. Hell.
Seriously, what was my next step meant to be? I saw that the Giraffe Foil Platter was marked out of stock, so I tried removing that from the cart. The message appeared again, and I assumed it had to do with the capiz ornaments because of that little message on the search results page about them being out of stock. However, the cart thinks they are arriving soon, so how am I supposed to know which item is the problem?! The message that "one or more products… have an invalid price" is meaningless to me – I didn't enter any prices, I have no control over the prices, how is this my problem?  That's a huge red flag that implies their site is essentially broken.
Needless to say, I did NOT complete this shopping experience. Sending me to customer service instead of just having your site work properly isn't acceptable to me. The words "customer service" aren't even a link to a pop-up – at the very least, you should make it easy for me to be able to connect with someone.
So, I was epically disappointed in my sale shopping experience with Pier 1 Imports. I only give report cards to brands that I actually order from – but obviously if I never make a purchase, I would think the score is a zero. I really like some of my Pier 1 products, so I hope they can work on fixing their cart and clearance items situation.
Have you successfully shopped Pier 1 Imports' website? Let me know about your experience in the comments!
Save
{ Comments on this entry are closed }