22. Dogma (Not available to stream on Netflix Instant Watch)
[youtube 20CRw3XdETA]
Continuing our trip through the Kevin Smith View Askewniverse films, Dogma centers around 2 angels, Bartleby (Ben Affleck) and Loki (Matt Damon) who have been banished to live on Earth for eternity.  They are introduced to an opportunity to get back into Heaven, and so begin a journey to get to a church in New Jersey.
Loki and Bartleby are being pursued by the 13th Apostle (Chris Rock), the last living relative of Jesus Christ: Bethany (Linda Fiorentino), and the so-called "prophets," Jay (Jason Mewes) and Silent Bob (Kevin Smith).  This crack team is determined to stop Loki and Bartleby from going back to heaven and therefore unmaking existence.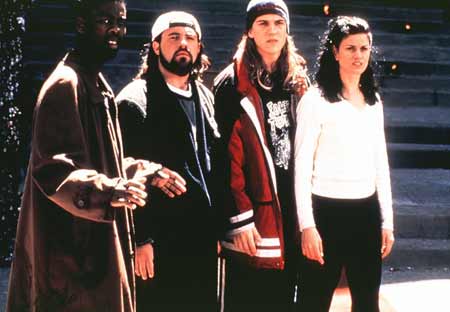 There are other fun performances from the supporting players in this movie.  Alan Rickman as Metatron, the first heavenly being that visits Bethany, the Last Scion.
Salma Hayek also appears as Serendipity, a muse come to earth and now stripping for a living.
There was a lot of controversy when this movie came out, and watching it 12 years later, I still don't get it.  The movie as really funny moments, and great dramatic moments.  I don't find it as re-watchable as the other movies in the View Askewniverse, but I still like it a lot.  It's definitely worth a watch.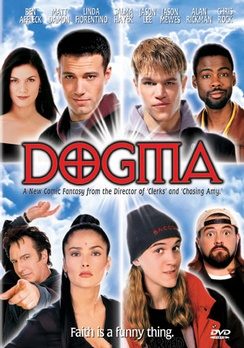 Dogma is available on DVD from Amazon for $7.99.
{ Comments on this entry are closed }