A little back story on how this all began. I was a nail-biter for YEARS, as far back as I can remember I was biting my nails. No idea what made it start, and I had painted my fingers with that bad-tasting stuff for ages to try and dissuade me from biting them but it did not work.
So, imagine my surprise when I got a manicure in March 2010 when prepping for a series of job interviews, and I suddenly stopped biting my nails. At all. The magic of my nails looking marginally cuter was the cure for my 25 years of nail-biting. It stuck in a big way, and of course, my next step was to pick up some nail polish so that I could do my nails at home. Little did I know that 2 years later I would have amassed a large collection of polishes, base coats, top coats, tools and more, and would have even built a wonky shelf out of foam core and hot glue.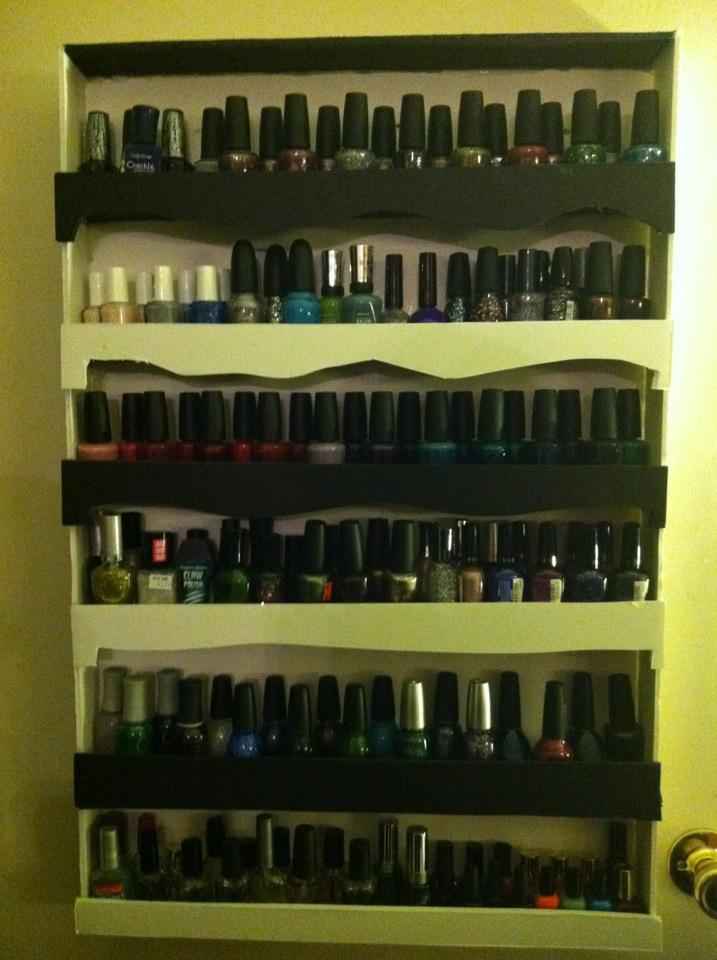 Earlier this year, I decided that it was time to cull the herd, because the shelf is full and it was getting out of control. (Please excuse the unfortunately lit iPhone photo of the shelf.) I bought nail polish testing wheels and got to work.
I was able to get an idea of the formula and opacity of each polish on the wheels, but since my finger isn't translucent, it still wasn't giving me the full effect. Plus, I was not getting any data on durability of polishes on the wheels. So I figured that it was time to work out another method for testing polishes.  After the collection review, I had swatched 128 polishes. I actually had 130 colors but 2 pairs of duplicate bottles, and I also did not bother swatching the 4 bottles of crackle since I pretty much know what the deal is there. Also on the bottom shelf on the left side is a large collection of top coats and base coats, all of which I intend to actually use in the coming testing, instead of buying Seche Vite all the time.
So I made the decision to not buy any more polishes until I had managed to try out each one in the collection, reviewing each one and deciding whether to keep it, trade it off, or "momcycle" it, which means a contribution to Mom's nail polish collection, made much more exciting by some past contributions I've made. I have a spreadsheet largely derived from the one created by Sara that gets updated after I wear each polish, so I have notes on each one and can track what I kept and what went out the door.
Naturally, I will blog these too, and have pictures to go along with it.
Right before the freeze on polish purchases, I bought 4 A England polishes. The greens I wanted were sold out, so I bought a few others to try. King Arthur was my first pick, and I was disappointed. I did a lot of cleaning up around my nail after this, and it still isn't that crisp (granted, I'm not the most amazing at that anyway). I put a little sticker on the ring finger because I am almost incapable of having just polish without something fancy on top.
Thoughts: Color is OK but the formula left much to be desired.
Verdict: Momcycle. Maybe Mom will have better luck, and I want her to try out a darker polish like this.
Here I am now with a sparkly sticker, but this polish didn't need it. I LOVE ASCALON. The application wasn't painful and the result was gorgeous.  Plus, I had barely chipped it 5 days later when I took it off, and that's a big deal because I have trouble going 3 days without a chip.
Thoughts: Gorgeous, sort of baby holo, good application and awesome staying power.
Verdict: Totally keeping this.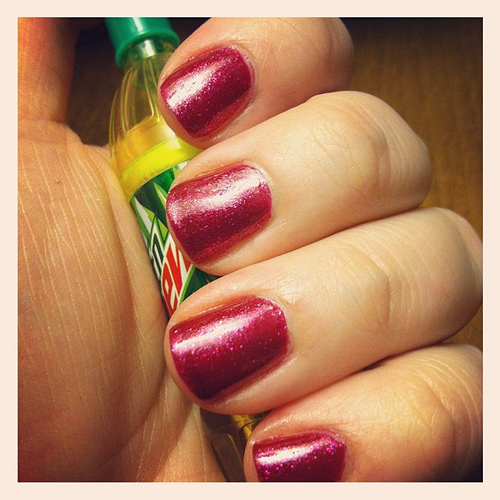 An old one from the Burlesque collection.
Thoughts: Application and durability were OK, but I am not really into the color. Plus I think I already gave another bottle of this to Mom.
Verdict: Momcycle. (I confirmed that I did give the other bottle to Mom.)
The super-controversial My Private Jet. I'm pretty sure I have the "yuk brown" version as described in this post from The TraceFace Philes. I have it on my toes now after finding it at the nail salon. It isn't a bad polish, but when you see the original version, you can see why it is controversial. OPI should never have released what are completely different polishes with the same name. Very shady moves.
Thoughts: Good application and is an interesting polish, but is speckled dark brown. It is NOT a holo like the original.
Verdict: I'll keep it, but would not mind if someone got me a bottle of the original color. I'm not paying $50+ on ebay though.
5. Nicole by OPI Wear Something Spark-Kylie
I can happily say that this is the only thing I've ever done that is related to a Kardashian. I don't watch their shows and generally can't stand them, but I could not resist some cute glitter polish.
Thoughts: Thick formula, which is sort of par for the course with some glitter polish. It's very sparkly and pretty though. Crap durability, but this happens to me with all glitter polishes, I can never get them to stick.
Verdict: I'm keeping it.
OK this post is very long so I'm going to continue in a few days. I've only tried 12 polishes so far, so this is going to take a while.
{ Comments on this entry are closed }