My second interview for the blog is with someone I met in middle school! Erica Murphy and I went to middle school together, then I think Erica came to high school with me for a while and then went to another school, and then we both attended the University of Florida. (I hope I'm remembering that correctly.)
Here's me and Erica in college. You can tell it is college because we are both equipped with the ubiquitous red cup. We are babies!
Anyway, I found out via Facebook (because really, don't we find everything out via Facebook?) that Erica was selling everything she owned and moving to Italy.  This was sometime in the latter half of 2010, and I was intrigued.
Luckily for us, Erica started a blog called Erica's Italian Adventure, and thankfully, has been a much more consistent blogger than I have been over time.  I asked Erica questions about how this all started for her, so let's launch right into the questions.
I looked back to the beginning of your blog, but I can't really get a sense of what started your Italian adventure. How did this all come about?
Yeah, good question. I never did go into details on that did I? Hmmm. Oops. Maybe I will write an update to let people know. But anyway, there were a lot of factors at play.
From a personal side, I turned 29 (2009) and got a little freaked out that 30 was coming soon. I turned 29 in Italy, and I planned a 2-week trip with my (then) boyfriend to experience all the culinary delights from Rome to Como. I wanted 29 to be delicious and memorable. Even before I went on this trip, I knew that I wanted to come and live in Italy for a while. Also, the whole "29" and "30" thing was freaking me out because a lot of people I knew (through friends, no one very close to me, but close enough) were suffering from illness or dying suddenly. Some of these people were older, but most were too young. A friend of my sister (age 26) was diagnosed with a huge tumor on his spine and had radical cancer treatment. He is extremely lucky to be alive today, but at the time, it was unlikely he would make it. Another friend's mother-in-law had a heart attack due to pneumonia and died suddenly. Another friend's father was diagnosed with cancer and given a few months to live. Again, no one too close to me personally, but close enough to see the heartache and pain. I did not want to have any regrets in my life and you never know what will happen. I never wanted to say "I wonder if I had done XYZ," instead I wanted to know what happened WHEN I did XYZ. And I wasn't getting any younger. I was not married, had no kids and no real ties. Now was the time for me to still have an adventure without consequences.
(On a side note, next month I will turn 32 and the past 2 years have flown by. I will have turned 29, 31 and 32 in foreign countries, which I think is pretty neat. And I have spent most of my 30's traveling internationally- also cool. Not so sure what I was so afraid of! 30s are great! Not only for traveling for me, but also just more contentment in knowing yourself).
I also needed a change in my professional life. I loved my job, but felt that I had given all I could and had grown to my max in my position. There were no other positions that I was interested in moving into. I had worked in F&B [food & beverage] for 10 years – in many different positions (prep cook, culinary school, food publishing, research & development, restaurant reviewing, gourmet import sales, server, hostess, training manager, etc.) – but I felt like I was disconnected from food. I needed to get my "hands dirty" in it again. I wanted to learn about food and how it influences culture. And I decided that Italy was the place I needed to be.
Italy does food best. They do it with complete love. To Italians, food is not just nourishment or something they need to make 3 times a day. To them food is life, food is love, food is the reason for being. And their food is not complicated. In fact, it is the most simple cuisine. But it is pure, regional, beautiful and seasonal. So I decided that Italy was where I could learn the most about food in the way I wanted and needed to at this point in my life and career.
It was a very difficult decision. I gave my notice at work 13 months in advance! I had a lot to wrap up at work and at home. For my last year in Colorado (2010), I had a "Colorado Bucket List" and I planned nearly every weekend for the year (mostly the summer months) to complete all that I wanted to do. I ran a half marathon, completed a mini-triathlon, climbed three 14ers, camped in Steamboat Springs, mountain biked to Wheeler Geologic Area, camped and hiked in Telluride, had a luxury weekend in Vail and Beaver Creek, and had all of my friends over to my house, individually, to cook them dinner and spend time together. When I left, I knew I had solid relationships and everyone knew exactly how I felt about them (I even hand wrote each person a note- there were 94 notes in total from work and friends).
I sold all of my belongings (except my good kitchen stuff, my ski boots, my art, and my books). I rented out my town home and I drove back to Florida. Back to my parents' house. I had to give up most of my life in order to live it to the fullest. It was hard and scary and sad but at the same time liberating and exhilarating! Through all of this, I knew that this was the right choice for me in this moment. And I reassured myself by saying that no matter what happens, any culinary experience I gain through this adventure will only serve to help me in the future. Even though this seems like a wild and crazy experience, it all relates to my career path, in some way… a way I am not certain of yet, but it will work out.
Tuscan sunset, photo courtesy of Erica Murphy.
So, you travel around and work at different farms and such for predetermined periods of time. How do you get placed at these locations?
There is no "placement". I do it all myself and it takes a lot of time and energy. It's actually quite stressful to constantly be searching for a comfortable roof over your head, and plunking yourself down in the middle of different families.
I joined 3 different volunteer organizations (WWOOF, Workaway.info, Helpx.net).
Willing Workers On Organic Farms, now called World Wide Opportunities on Organic Farms (WWOOF). I am a member for Italy (each country has it's own membership). Members and host farms pay a 25 euro annual fee (comes with some basic insurance- I have an additional insurance package, just in case) and everyone is able to see the host/member list. The host list is organized by region. Each farm has their contact info given as well as info about their setting- what they produce, what kind of help they need, working expectations, accommodation, languages spoken, who else lives there, farming philosophy, etc. There are over 400 farms just for Italy. I review the list for the regions I want to go, narrow it down to those who seem appealing (I prefer vegetables to animals, wine in particular, electricity and running hot water are good, as is WiFi and if English is spoken its a bonus, and near a city is good too) and then I email them with some info on me and ask if I can join them for specific dates. They respond with acceptance or not.
Workaway and HelpX are pretty much the same, but they are not limited to only organic farming. They have all kinds of volunteer opportunities from babysitting to carpentry to working in hostels to helping on sailboats and everything in between. So the nice thing with those is that you have more variety of work. And when I get tired of farming, then I like to pepper in these sites so I can have a break and do something more social. Of course the language is a huge factor in Italy. In Ireland this was a nice option.
Rosemary focaccia, photo courtesy of Erica Murphy. Click here for Erica's original post which includes the recipe!
You're generally very positive about everything on the blog, but (without naming names or locations) have you had a placement that you ended up really disliking? If so, why? (Again, not asking for you to burn bridges.)
When I started the blog, I wanted it to be educational, inspiring and fun for the readers and I was also coming from working in Human Resources where I had to be professional and PC all the time. It was good training and I continue to be positive, yet accurate. I don't want to offend anyone and I don't want to be negative. Sometimes I am feeling depressed or negative but I don't let myself air that to the world. The internet, though intangible, is permanent and I would hate for me to post something I might regret later.
So to answer your question, yes, I had a farm that I left. But only one. It was in Chianti last March. I had agreed to come for a month and left after just 4 days. I had just ended a week vacation with my cousins who were visiting from Ohio. We went all over Tuscany and to the Cinque Terre and Florence. We had a fabulous time! The day before they left, the tsunami hit Japan, and I had just booked a ticket to Tokyo to arrive one month later. With my cousins leaving (and me feeling alone again), and knowing the devastation and unstable environment of my next destination, I NEEDED the internet to change my course. The host was not keen on letting me use his computer or the internet, insisting that I "relax and just take it easy, it will all work out". Typical Italian. I had run out of cell phone minutes and did not have internet access and was in a very remote area of the hills of Chianti. I felt stressed, stranded and isolated. And I had a lot of communication I needed to do at that time. Also my hosts were 2 bachelors, guys in their mid-late 40's and one was a bit emotionally unstable, going through psychodrama therapy for the death of his 4 year old son from 2 years earlier. All of this made me uncomfortable and I felt that I could not enjoy the experience there with all of this looming over my head. On day 4, I told him that I needed to leave, apologized, and asked for a ride to the bus station that morning. I was so happy I left. Instead I spent a week in Siena (one of my favorite places in Italy) and had unlimited WiFi. I got everything sorted and went back to my first family in Montalcino for the next few weeks. I'm so glad I listened to myself and got out of there. I think had things in my life (and his) had been different, I might have stayed. But I'm so glad I left.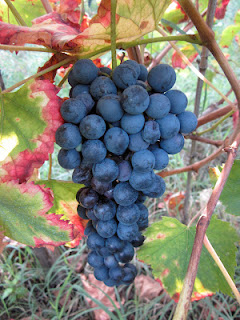 Erica participated in the grape harvest! You have to go to her blog to see her stomping grapes like Lucy did. Photo courtesy of Erica Murphy.
Are your parents worried about you? I think my parents would be super nervous about me on a jaunt through Italy, surrounded (at least in their minds) by burly Italian men.
Good question. My parents are my biggest supporters. They have been so incredible through all of this. And all the while, yes, they are scared shitless and worried to death for me. I try my best to be sensitive to their emotions with all this and I try to be in contact with them as often as possible. Most of the time I send my mom a daily email, even if I just say hello and I'm alive. It puts her mind at ease. I know she thinks about me every day and wonders if I am OK. We try to Skype when I have good internet connection but that is honestly only every 2-3 weeks, especially with the time difference too. But as worried as they are, they are also the ones who tell me how proud they are of me. And honestly, it's their fault! They raised me and my sister to be independent, self-sufficient and open to the world… and it worked. My sister has lived in Ecuador, Bangladesh, Costa Rica and has traveled extensively to Spain, Central and South America (as you can see, she is far more interested in Latin American culture than I am!). So between the 2 of us, we have lived for many years outside the US. They worry, but they also know I can handle whatever comes my way, and they know I have enough on my credit cards to get myself home at anytime I want. And they have my dog, so they know I am coming home to them.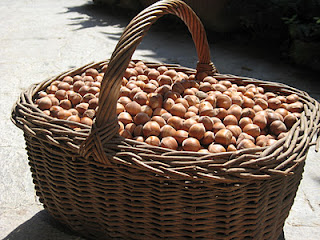 Hazelnuts, photo courtesy of Erica Murphy. I will be eternally grateful to Erica for doing the back-breaking work of harvesting hazelnuts that went into the production of Nutella.
You are becoming (have become?) a German citizen. Why? Also, is it easy to attain citizenship there?
I have submitted my application and documents (which took nearly 100 hours to obtain). Germany has received them and is processing my application currently. When they approve me, they will email me and I will arrange to pick up my papers at the nearest German consulate in Italy. I will then apply for a German passport.
Why, you ask? Because Germany is a part of the EU, just like Italy. So, once I am a citizen of the EU, I can legally live and work in any EU country, including Italy, for as long as I want. (Right now, I am only here as a tourist and I can legally stay for 90 days every 6 months). Typically Germany is one of the most difficult countries in which to attain citizenship. However, because I am a direct descendant of a German Jew who escaped the Holocaust, there is an exception. I can have dual citizenship and I don't need to learn German or take any tests. I just had to prove that my maternal grandfather was German and Jewish and left Germany on a certain date, arrived in the US on a certain date and naturalized after a certain date. So, this means I do not need a work visa to stay in Italy. And work visas are pretty much impossible to get as an American who doesn't speak the language well, in a country that can't even employ many of its own citizens. I also think I get free healthcare and lower tuition or something- other perks as well for EU citizens.
What distinctly American thing did you miss eating during your first long stint away?
Haha! Good one. Despite the beautiful cheeses I ate here (and LOVED), the thing I missed most were my guilty pleasure—Cheez-its. Silly, I know. But true.
What's been your absolute favorite destination?
I have two. Courmayeur in the Italian Alps has certainly stolen a piece of my heart. It reminds me of Colorado, with all the natural beauty, but with all the perks of being in Italy and close to France too. Siena is my favorite town/city. I love it there and can't really tell you why for sure. It might have something to with the sense of community and bond between people as well as the Tuscan food and beautiful architecture. I feel very much at home in Siena and have spent over a month there in total over the past few years.
Courmeyeur, photo courtesy of Erica Murphy. Erica's blog post about her visit to Courmayeur is here!
Tweet challenge! Describe your adventure so far in 140 characters or less.
This adventure has been everything I had hoped for and more than I could have ever imagined. I have met the most interesting people, eaten the most exquisite food and seen some of the most beautiful landscapes. I'm hungry for more.
Don't know if that is 140 characters and I have never tweeted before so not sure if that fit the requirements, but I tried. [Note from Jamie: You are over the limit, but since your answer is in the spirit of short and sweet, you get a pass.] That doesn't really sum it up though. Let me work on that one, but for now you can have that.
…and the questions that I give to everyone…
What's your favorite website?
What celebrities did you have crushes on in high school?
Gosh, I don't think I had any. Maybe Bruce Willis and Samuel L. Jackson from Die Hard. They were badasses. But really, I don't follow pop culture or celebrity stuff, I don't even watch TV. I have never had cable in my adult life until 6 months before I went to Italy and that was only to watch food network and travel channel. I go to the movies maybe once a year. I have no idea who is on the cover of any grocery checkout trash magazine.
What's next for you?
My dream is to develop a culinary tourism company that allows me to bring foodie travelers back to the regions I have experienced. I hope that I can use the relationships I am building with farmers and the community in order to create an authentic and regional culinary experience. But I am completely open to what is presented in my path.
How can everyone connect with you online?
Facebook, Skype (EriBerri48), ericamurphy@gmail.com, ericamurphy48@yahoo.com, EricasItalianAdventure.blogspot.com
Seriously, HOW AWESOME IS ERICA? Her blog is really fantastic, and I really need to go to Italy SOON. I cannot recommend that you go subscribe to her blog, and read back as well.  It's a mixture of cultural impressions, information on Italian ingredients, recipes, and most importantly, lots of photos. Go, now!
Thanks to Erica for answering my questions!