To view all of my content about brand experience, please click here.
This is another short post about a feature I don't like about a website. I really hope to find good things to talk about soon!
I have recently been rearranging some things in my home and it became necessary to shop for a small desk to be utilized as a vanity. Naturally, I head over to IKEA's website to look at options, because I know that they will have at least a few for me to look at and compare.
When I get into the searching, I realize that I should pin a few of the ones I like, because I don't know exactly how wide I want this item to be.
This one looks like an option. I click the "Pin it" button so that I can put it on my Home board on Pinterest.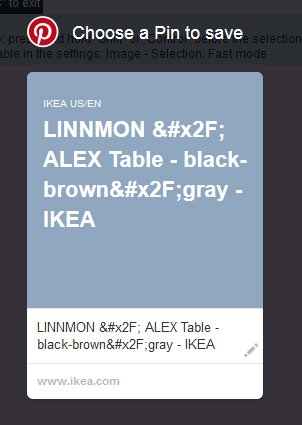 This is weird. Why isn't it showing me the product photo? It also isn't offering me a chance to pin any of the secondary images for this product. I add it anyway, hoping that it will suddenly work when actually pinned.
Not so much. I pinned 3 desks to my Home board just to make sure that this was happening, and it did, every time.
IKEA is WAY TOO BIG to have an error of this magnitude on their website. I am frankly stunned that I am finding this issue.
Even more stunned when I see IKEA's significant presence on Pinterest:

That's a lot of followers, and they have a lot of content. I am stunned at this discovery.
Here's hoping that someone at IKEA will see me tweet about this and reply.