My mother has a beautiful cocktail ring that my father gave her years ago that I've always loved.  While many people think that giving jewelry for Valentine's Day is trite, it does not have to be.  Think about buying the woman in your life a colorful gemstone right-hand ring, something fun and sparkly that might just say "I don't find you generic."
All finds today are from Overstock.com, they have a great selection of gemstone jewelry.  All selections purchased now are guaranteed to be delivered by February 13th.  I've tried to pick out a variety of styles and sizes, to cover the style and taste of your valentine.
The green amethyst is beautiful and unexpected.
14k Green Amethyst Ring, $349.99.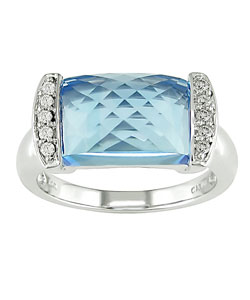 The cut on this stone is something I have rarely seen.
14k White Gold Blue Topaz Ring, $302.99.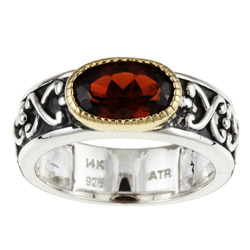 This one is more ornate, and features two types of metal. Love the garnet, it doesn't get enough love.
Meredith Leigh Sterling Silver and 14k Gold Garnet Ring, $94.99.
This one is both fabulous and a bit understated, perfect for the less flashy individual.
10k White Gold Opal and Diamond Ring, $129.99.
Super modern in both stone cutting and setting.
10k White Gold Blue Topaz and Diamond Ring, $129.99.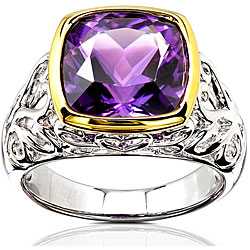 Purple amethyst is a classic stone, and the setting here is gorgeous.
Sterling Silver Cushion-Cut Purple Amethyst Ring, $119.99.
I love the combination of blue stones here, and the setting is definitely not your standard fare.
Sterling Silver Sapphire and Blue Topaz Ring, $66.99.