It's been quite a long time since I've perused the Tiffany & Co. site to look at jewelry. I was listening to a story that referenced Tiffany and so decided to go browse around. As much as I would love this $350,000 bracelet, the silver collection is more within my financial comfort zone.In particular, I'll focus on the Ziegfeld collection items here.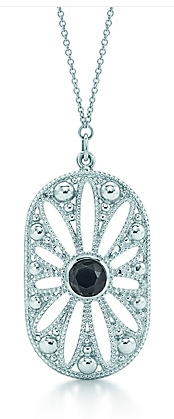 Ziegfeld Collection Daisy Pendant, $450.
Ziegfeld Collection Pearl Ring, $475.
Ziegfeld Collection Daisy Ring, $550.
Ziegfeld Collection Daisy Locket – Medium, $600.
Ziegfeld Collection Daisy Locket – Large, $800.
Ziegfeld Collection Black Onyx Tassel Necklace, $600.
I will plan on making a purchase on Tiffany.com at some point, because my customer experiences with Tiffany have been amazing. I don't doubt that they will score very highly in the brand experience examination.
Are you a Tiffany fan? I'd love to see links to your favorite Tiffany items in the comments.
Thanks for coming by to visit JamieSanford.com. If you enjoyed reading this post, please follow @JamieSanford on Twitter, subscribe to the RSS Feed or subscribe via email so you'll always be updated of my latest posts! Just enter your email address below and click the Subscribe button.