Oh I love this.
Not much to say really, it's the black sheep mobile from Mini Jake.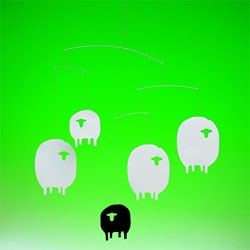 This is the sort of thing I would definitely put in my kid's room (if I had a kid), or even in my own house.  It strikes me as something that would be cool in a bathroom, if the rest of the room was conducive to having a mobile.
The black sheep mobile is available for $28.50.
Thanks for coming by to visit JamieSanford.com. If you enjoyed reading this post, please follow @JamieSanford on Twitter, subscribe to the RSS Feed or subscribe via email so you'll always be updated of my latest posts! Just enter your email address below and click the Subscribe button.