53. The American President (Available to stream on Netflix, available to stream, rent and buy digitally on Amazon)
Here is the trailer for The American President.
[youtube Lnb4UWXL8KA]
The American President is one of the movies I have seen before. Except that I have seen this movie A LOT of times.  My dad is sort of obsessed with it, he will watch it in full every time it is on television, and I'm the same way.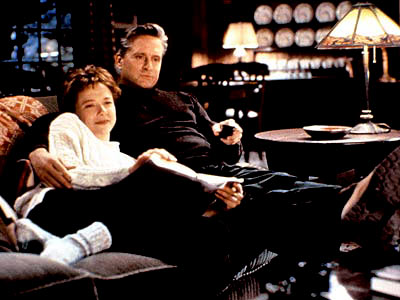 The American President is the story of a single US president who meets and falls in love with a lobbyist.  Naturally, drama ensues.  It features Michael Douglas as President Shepherd, Annette Bening as Sydney, and a great supporting cast including Martin Sheen, Michael J. Fox, Richard Dreyfuss and Anna Deveare Smith.
I honestly can't say much more about it, I've basically summed up the plot and cast, and giving much more away is just details.  So this will be a short entry.
I obviously recommend that everyone watch this movie because I love it.  I also think it would be a great addition to a DVD collection, because I find it ridiculously rewatchable.
The American President is available on DVD from Amazon for $5.99.