65. The Addams Family (not available for streaming via Netflix or Amazon)
Here is the trailer for The Addams Family.
[youtube wUBCvK39Vzo]
The Addams Family is a 1991 film based on the classic television show.  It stars Raul Julia, Anjelica Huston, Christopher Lloyd and Christina Ricci as members of the Addams clan.
In the story, it has been 25 years since the disappearance of Fester Addams, and they hold a seance to try and connect with his spirit.  An impostor shows up in an attempt to access the family fortune, and so the movie goes.
66. Addams Family Values (not available for streaming via Netflix or Amazon)
Here is the trailer for Addams Family Values.
[youtube jVlPzTPLC4M]
Addams Family Values is a sequel that actually surpasses the original film.  It begins with the birth of Pubert Addams, which creates the need for a nanny.  The Addams' soon hire Debbie, played brilliantly by Joan Cusack.  She manages to get Wednesday and Pugsley off to summer camp while she tricks Fester Addams into marrying her, in an effort to access his fortune.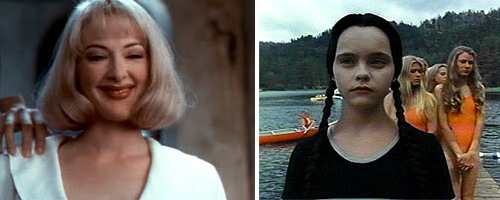 Both Joan Cusack and Christina Ricci stand out in this film.  They're both brilliant.  Christina Ricci shows off the crazy amounts of talent she had even as a child.  Raul Julia is also great.
I really enjoy both of these movies.  They're dark and funny and have fabulous costumes and I want to live in the Addams mansion.
A double disc of both The Addams Family and Addams Family Values is available on DVD from Amazon for $10.99.
Thanks for coming by to visit JamieSanford.com. If you enjoyed reading this post, please follow @JamieSanford on Twitter, subscribe to the RSS Feed or subscribe via email so you'll always be updated of my latest posts! Just enter your email address below and click the Subscribe button.