59. The Yellow Handkerchief (Not available to stream via Netflix or Amazon)
Here is the trailer for The Yellow Handkerchief.
[youtube 3ovc-xjBIt4]
Spoiler alert. Yes, another Kristen Stewart movie. Deal with it. This is the last one for a while.
The Yellow Handkerchief is a road trip movie, where 2 teenagers end up on a road trip with an ex-con just out of prison.  They end up finding out his story and helping him pursue another chance at a lost love.  The movie stars William Hurt, Maria Bello, Eddie Redmayne and the aforementioned Kristen Stewart.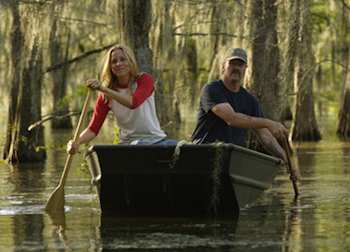 As we move through the initially uncomfortable road trip, we see flashbacks of the relationship between Brett (the ex-con played by Hurt) and May (Bello), who meet and eventually get married.  An unfortunate incident puts Brett in jail, and in an attempt to save her from him, he divorces May from jail.  Early in the road trip, he mails her a postcard letting her know that he is out of jail, and that if she wants to see him, she should put up a yellow sail on her houseboat.
Martine and Gordy (Stewart and Redmayne) are just kids, and they become wrapped up in the story that Brett tells them of May and the love that they shared.  They provide the push that Brett needs to follow through on his attempt to reconnect with May, and naturally, seem to have fallen in love with one another by the end of the movie.
The Yellow Handkerchief is quite a pretty film, it gives you a lovely view at some of the beauty of the small towns in the south, and presents some of the devastation still remaining after Hurricane Katrina.  It is definitely worth a viewing, I really enjoyed the movie.  I never think about William Hurt but the man is SO GOOD in the movie.  Props also to Maria Bello, who makes me sympathize with May and also cringe at her behavior.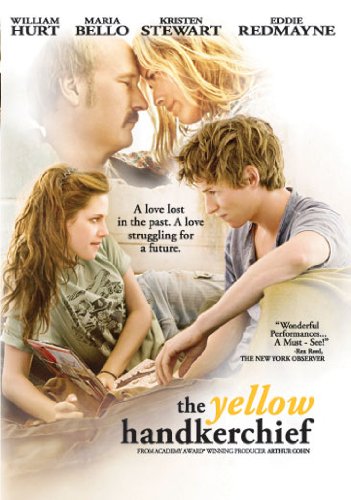 The Yellow Handkerchief is available on DVD from Amazon for $10.99.
{ Comments on this entry are closed }