Click here for all posts in the Brand Experience Project.
This post was born from a need to replace a tube of The Body Shop Hemp Hand Protector that I think I had for around 5 years. It was finally time to reorder, so naturally, I documented the process.
Shopping
I really like the homepage navigation callout for "What's Hot" menu choices. These are also available in the top nav bar, but I think the immediate recognition of what is most popular is fantastic. As I've mentioned before, I also really like a clear and prominent mention of what I have to do to get free shipping. It's right at the top!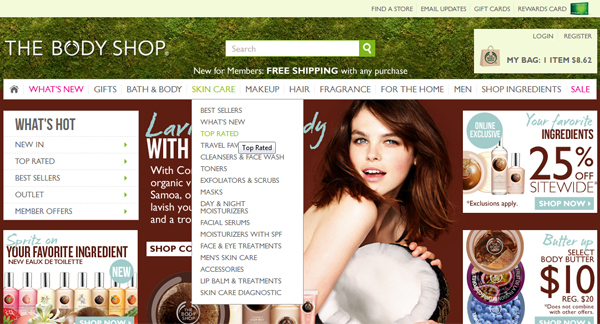 My first menu choice was Skin Care/Top Rated.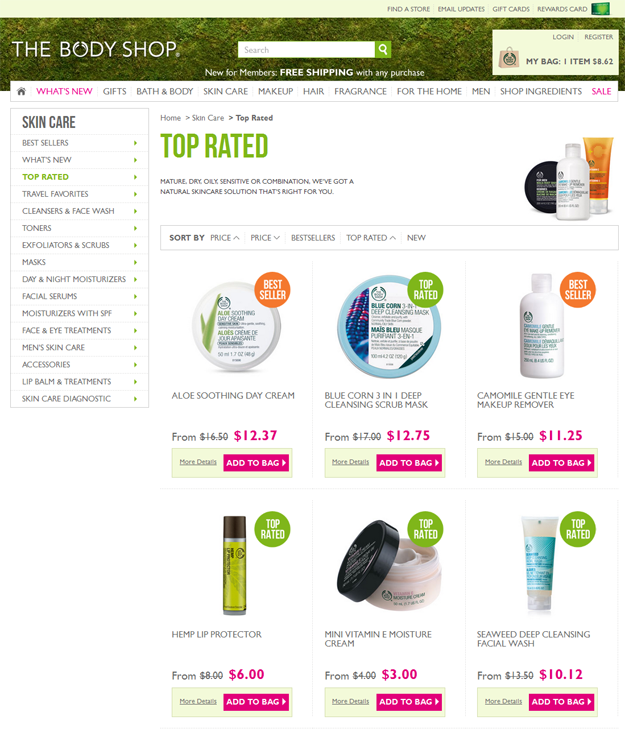 Other than not seeing the relation between the description and the section name, I really like the simple and unobtrusive headers.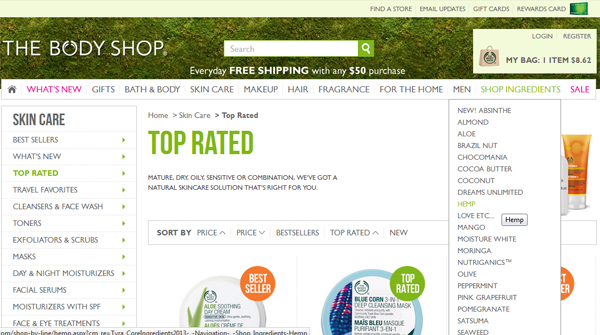 After adding some face wash to my cart from the Top Rated section, I used Shop Ingredients/Hemp as my next menu choice. I REALLY like the Shop Ingredients option. I think this is especially appropriate for The Body Shop.
The header on this page (the section header, not the overall site header) is great, showing a group shot of the collection, and a great description of the Hemp line of products.
I don't find much fault with the individual product pages. Super clear, great product information. Reviews are easy to find, and the page takes into account that I already have something in my cart and tells me how much more to spend to get free shipping. I love how right underneath that, it's also telling me how much I WILL have to pay for shipping if I don't reach the predetermined free shipping amount.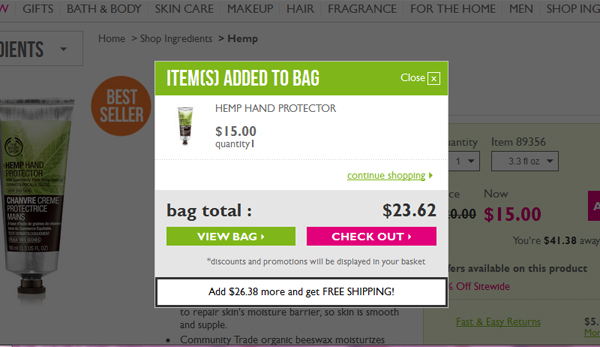 Added to my cart. Pretty basic, and really selling that free shipping option.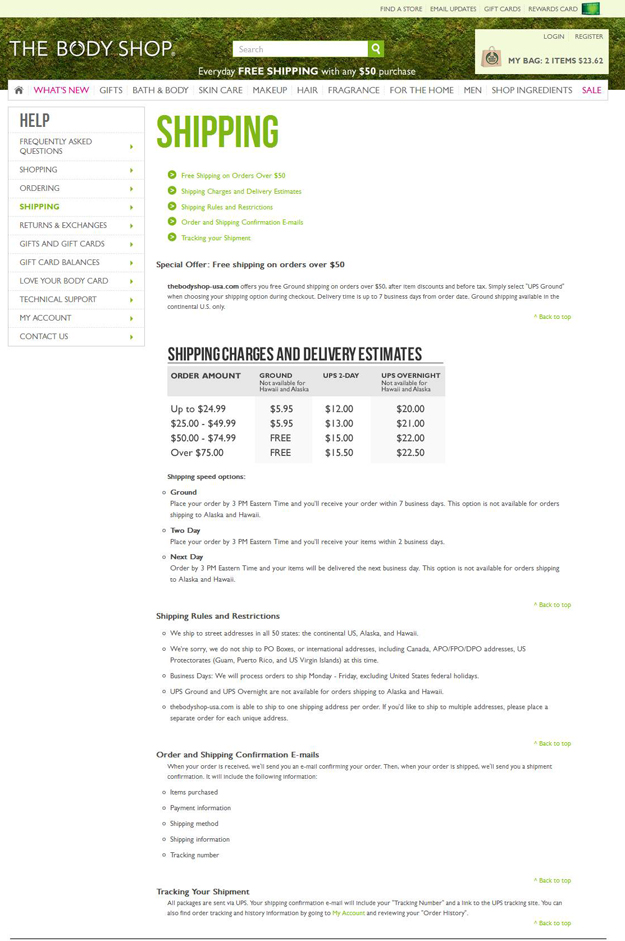 I decided to check out the full shipping page, and WOW, I love this. The information given here is really precise and detailed. This is when they will be processing orders, this is how long each step takes, this is an explanation of the information you will receive—I find this very impressive.
Checkout
This was my cart. Simple layout, easy to add additional items, there is information on the loyalty program, and as before, an indication of how much more to spend for free shipping. I had what I needed so I decided to pay the $5.95. I certainly will not forget that any future purchases from The Body Shop will have free shipping if I spend more than $50. I do wish that the link to the shipping information was not grouped in with the Verisign logo. I had completely missed that and my proofreader caught it. I completely glossed over it, and when I went back to click it, it opens the shipping info in the same window, which is a pet peeve of mine. Don't make your users leave the page from which they buy things.
If you investigate this site, customer service is important and requires effort. Three customer types! However, my issue with guest checkout is this: Since you have to hand over a bunch of information to make a purchase, why would you not simply create an account? It's maybe 1 or 2 additional fields. I'm guessing there is enough data regarding page abandonment when people think they have to create an account to justify telling them that they don't have to. As always, wishing I had access to statistics.
I see this all the time now, and appreciate the step to make my order more shipping-friendly.
All of the checkout information is on one page, which is expected at this point. I especially like this more than the tabbed versions I see where it makes it difficult to look back at your previous steps. I do wish there was a link to that amazing shipping information page in the shipping section, or a pop-up containing it, because it is incredibly helpful.
I do not understand how a website that has been so well-designed wouldn't give you the option to also print a receipt. I see that I'll receive something in my inbox, but I don't think the effort for a printed receipt is too tricky.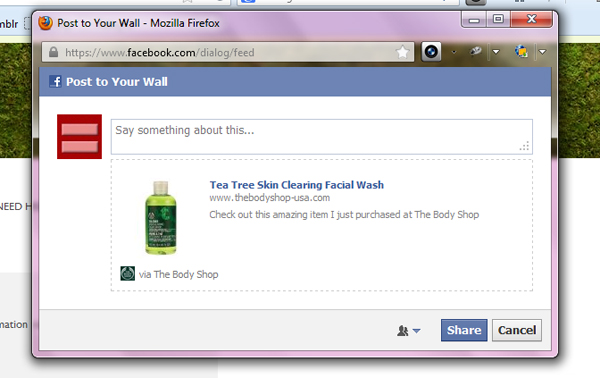 I really like the social sharing option for shopping. It's more of a "why not" than a "why" at this point.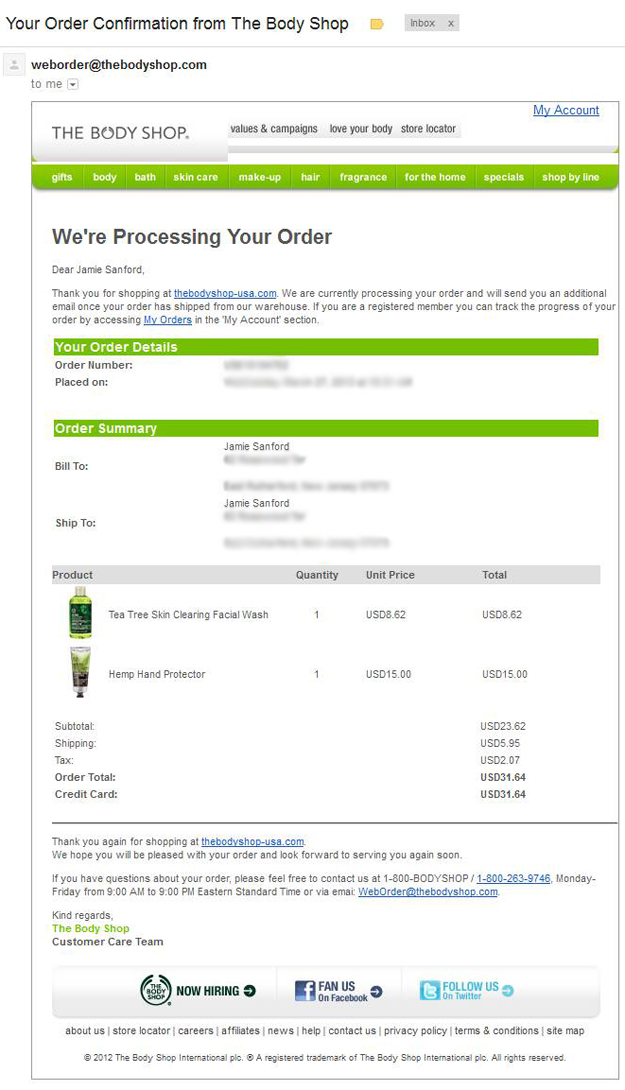 Here's my email confirmation. It is clear here that if I did not create an account during checkout, I will have to rely solely on emails to track my order. This is another instance where I wish I had access to a company's data on how many guest checkouts they have in comparison to those with accounts.
Packaging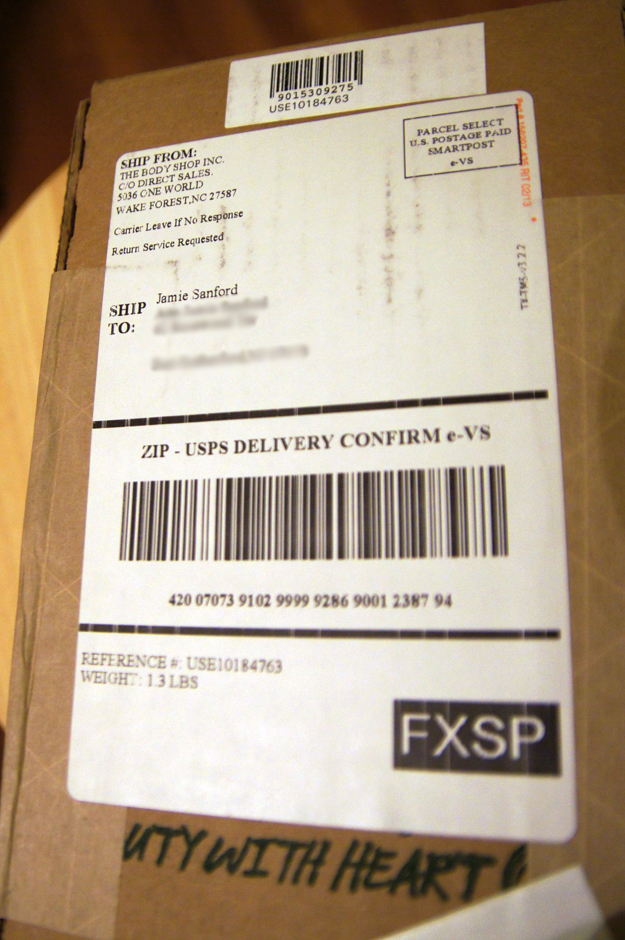 My package arrived 6 days after my order was placed.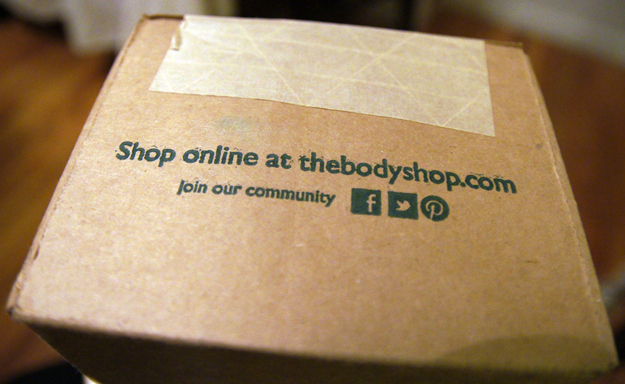 Although the box seems to have taken a bit of a hit during transport, I'm still pleased. I also really like the customization on the outside. I had to go back to the website to find out what Wood Positive meant. The site says that The Body Shop is committed to growing more wood than is used in their packaging.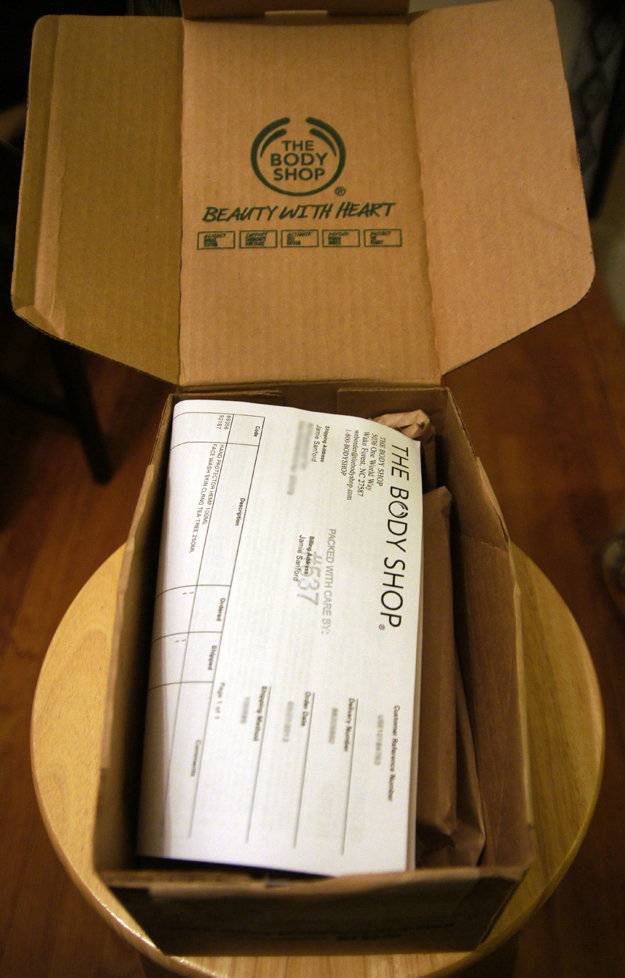 Here's the open box. Note the folded packing list, which arrived in fine condition. The customized packaging continues on the inside as well.
Here's a shot of the interior printing on the box.
I found this stamp on the packing list. Someone with a number packed my order with care. I find this to be a good way to suggest personal handling without the issues that might come along with sharing someone's name. This hasn't stopped Neiman Marcus though.

Here is a helpful message about product delivery and easy instructions on finding return information.
There should be little bubble hearts around this image, because this packaging was SO nice. Yes, that is basic brown paper, but The Body Shop has taken the time to very securely wrap my items, and add a little extra touch with the logo sticker. This is what this project is about. The Body Shop has taken completely standard packaging materials and made me really happy because of the extra effort to treat my purchase this well.
The last image from the package opening experience. My not-too-delicate items, packaged in a lovely cocoon of basic brown packing paper. Sure, I like fancier wrapping too, but The Body Shop has made their mission to not be wasteful with packaging very clear, and they've done wonderful things with the packaging materials they have chosen.
Report Card
Other than some small issues, The Body Shop performed incredibly well. I will definitely be going back for more!
As always, I am interested in comments on this post and also suggestions for sites to shop on in the future for the project. Thanks for reading!
Save
{ Comments on this entry are closed }