Click here for all Formula One-related posts on JamieSanford.com.
I totally fell off of my Formula One posts after Italy last year. I'm going to make it another goal to complete them all this year – to do so, I'm going to mostly stick to image commenting, and leave the real recaps up to the fine people that update the Formula One wiki.
Australia
All photos of the Australia race are from Planet F1. Go here to see their whole gallery and enjoy the site in general.
A new season starts with Sebastian "Team? What's that mean?" Vettel on pole, which is standard. We did get our first glimpse of Lewis "Swag Party" Hamilton as a Mercedes driver, which I think now (a few races in), he sees as an amazing decision.

Last season troublemaker Pastor "Is Going To Run Into You" Maldonado crashed out, and called the car "undriveable."
After a mostly unremarkable race, Kimi "Is Devoid of Emotion" Raikkonen won.
Final results were Raikkonen, Vettel, and my boy Fernando "Eyebrows" Alonso in third. Clearly Fernando had his eyebrows waxed before the grand prix.
I find it surprising that someone with such triumphant eyebrows has randomness in his facial hair. I'm sorry Fernando, I don't think it is going to grow in.
Malaysia
All photos of the Malaysia race are from Planet F1. Go here to see their whole gallery and enjoy the site in general.
Yay! Fernando and his eyebrows celebrate his 200th race!
Fernando didn't get too far in the race (and ruined my fantasy score) by making a really bad decision to not pit after a collision. His front wing was a mess, and soon after passing the pit entrance, it disintegrated in a spectacular fashion. Race over for Fernando.
"Oh, Jamie is going to be so pissed! I hope she forgives me."
The race moves along well, and Mark "Who Has Absolutely No Luck" Webber is in the lead, with teammate Vettel behind him. They are both given the message to slow down, conserve fuel and tire life to get to the end of the race and earn valuable points for the team, but Vettel had other plans. In this photo, you see Vettel going around Webber, who eventually had to pull away to avoid a collision, leaving Vettel to win the race. (I have never been a big fan of Vettel, but his unsportsmanlike behavior is hideous. I'm even more grossed out by the fact that he keeps telling different versions of how he feels about the situation. Hey Sebastian – you were a douche, maybe better to not talk about it anymore.)
Webber then gives Vettel the finger, which is totally what I would have done. Where was the team radio transmission of what I am SURE was him screaming all sorts of WTF at the team?
Meanwhile, the 2 Mercedes teammates were also given orders to stay their positions and managed to do so without incident. Classy Lewis Hamilton ended up with the podium spot, and mentioned that he thought it should have been his teammate up there.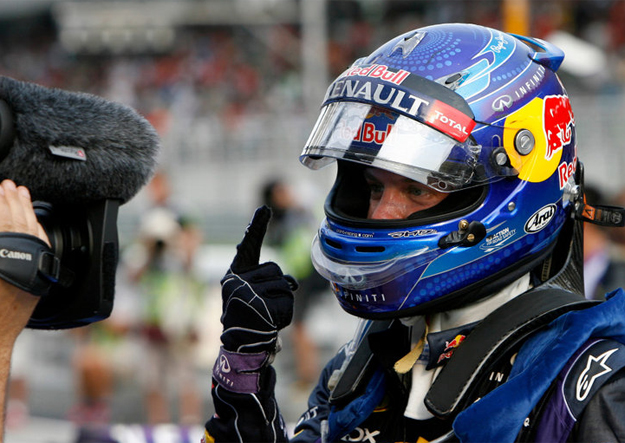 Ugh. I know that is your thing, but when you know you took the shitty road to get there, maybe try not to gloat about it?
Awkward.
So that's all for this post. I'll be back with comments and a bit of recap on China and Bahrain soon!
{ Comments on this entry are closed }