Continuing the Connecticut trip story while having another trip under the belt to talk about. Part 1 of this trip is here.
We woke up early on Saturday morning, missed breakfast at the B&B and drove down the road to the Essex Steam Train yard for Will's turn at Hand on the Throttle. For a mere $500, you can purchase the opportunity to take a short class before getting to drive (with supervision of course) a GIGANTIC STEAM LOCOMOTIVE. You can buy it on the Xperience Days website too, and there are reviews there to check out.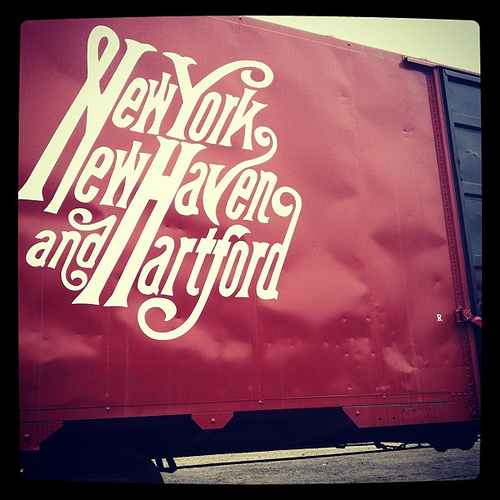 During Will's class time, I walked around the train yard and took some photos. Lots of train cars and whatnot. My whole Flickr set is here.
This is the instagram version of one of the photos I took of William while he was driving the train. I really only had the chance when he was going in the station and then out of the station, so it was limited. I walked around the train yard while he was gone.
[youtube SN_kBJDO4us]
Here's the video of Will's train-driving adventure. (Click here if you cannot see the video.) I had an AWESOME time balancing my iPhone on top of my Sony A550 so I could take video and stills at the same time. I let YouTube do their weird stabilization thing, so this isn't as bad as the original version. Enjoy!
After the train experience, the day could only go downhill for Will, so we headed out to Mystic, CT.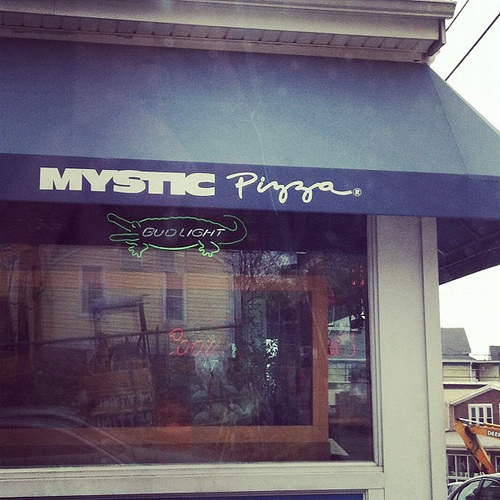 Of course did the obvious Mystic Pizza drive-by, before scoring some amazing parking and dropping by the Ancient Mariner for lunch. Walked around for about 15 minutes of shopping before we lost interest and headed for my planned destination, the Mystic Aquarium. For the record, I do feel sort of shitty about going to the aquarium ever since watching The Cove, but I cannot resist the allure of Beluga whales.
And they were magical. I have not edited the photos I took (even though this was over a month ago) from the aquarium, but I have some Instagram cuteness.
And of course I took my own picture with a beluga whale.  This was by the big tank windows, but I also took a bunch from above the water surface. These whales definitely know what a camera is, because one of them came over to me and legit POSED in front of my clicking shutter. I don't know why I didn't ask Will to film that while I was taking the photos.
So we made our way through the aquarium and then drove back to the B&B. We laid about and napped a bit, tired from our early morning, and eventually realized that we should get some dinner. After the unfortunate experience from the night before, we picked the Parthenon Diner, because diner food is generally consistent if you know what to order. We had a ball at the diner, I remember laughing a LOT – but I don't remember about what. We then picked up snacks and headed back to our room to watch more Bones on the Nook before falling asleep.
Sunday was rainy from the start, and not made better by a sub-par breakfast at the Copper Beech Inn. I really wanted to love it there, but I cannot recommend it at all. There was nothing exceptional about our stay there.
I thought it would be a great idea to stop at Gillette Castle on the way home, but it totally isn't accessible! I missed the boat on this.
It was a lovely trip. We packed a lot into 3 days, and it became much more than just the random trip to let Will drive the train. We will have to go back to Milford, CT, since the historical society there wasn't open when we visited, and I need more information from the genealogy section of the library. I'm sure I will post another link-filled entry about any future visits we take.
Next up is our Florida trip! Lots of links and photos from that one to come.
{ Comments on this entry are closed }