Prada Ready-to-Wear Collection, Spring 2012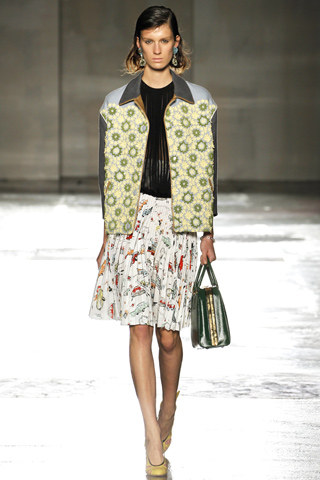 I won't be wearing this Prada skirt that I love.
As much as I read and enjoy many fashion blogs, I have trouble identifying with most things during Fashion Week. As most of the designers showing collections do not cater to plus-size women, it's mostly a giant tease for those of us that fall into that category. (I would love to hear more about this from the plus-size fashion bloggers attending Fashion Week, because part of me just doesn't understand the appeal.) Sure, I can be "inspired" by a look from the runway, but what if I want that exact skirt? Well, I'm SOL because the sizes are limited.
That being said, a collection that is a perfect example of this is the Prada ready-to-wear collection presented in Milan last week.  I think there are a lot of people in the fashion industry who look down on fat people, who think just like Tom Ford does, but perhaps they aren't inviting trouble by being vocal about it. Is Miuccia Prada the same way – and also, is she against making money? Because I have a feeling that some of these pieces, sized up, would make a killing.
Here are my other picks from the Prada show that I will not be wearing anytime soon. (All photos via Style.com.)
Love this skirt. I guess I can have that bag, since the bag doesn't care what size I wear.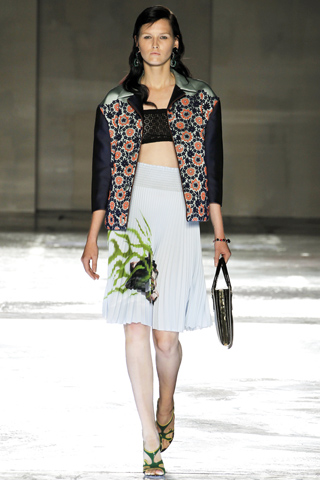 Skirt + jacket.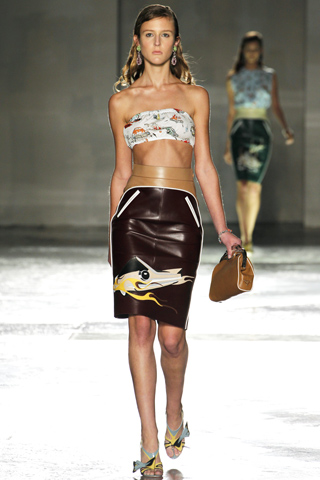 Not so much with that bandeau top, but that skirt is gorgeous.
This skirt might be even better. Gorgeous.
Is that pleated, flowy leather? Want.
I wouldn't wear it over a bathing suit, but I would wear this coat to death.
Not gonna lie, I'm sad now that I won't be obtaining any of these pieces without starving myself for 6 months.  I have heard that designers have to do so much more work to make pieces in sizes that are bigger than the norm, but a pleated skirt like those heavily featured at Prada cannot be that challenging to size up. However, I'm not a designer, I don't sew at all, so I don't know about sizing clothing.
I'd love to hear from plus-size girls/bloggers with their thoughts on this!
{ Comments on this entry are closed }