Today's guest blogger for the My Holiday Wishlist series is Jenny from Closet365. She has worn a different outfit every day in 2010. THIS BLOWS MY MIND as I am so lame when it comes to repeating outfits. Go check our her blog, she's doing outfits inspired by The Nutcracker this week!
I'm splitting Jenny's post into 2 parts – the rest will be up tomorrow!

---
Hi friends!
So. Usually when someone asks me what I want for Christmas, I think my first response is usually: well I don't need anything…BUT…and then I proceed to commence with what can only be described as Greedfest '10. See also: Greedfest '09, Greedfest '08, Greedfest '86 (the first year I can recall being old enough to covet.) It's true. While my needs are rather simple, my affinity for pretty and shiny things is kinda interminable.
Therefore, it was with great pleasure that I agreed to put together a list for this blog. The problem was where on earth to start. I decided to go with a theme. I'm good with themes. They make me happy. Much like the things on this list, were they to say…magically appear under my Christmas tree this year.
I give you the 12 Days of Wishlist.
A Partridge in a Pear Tree-
You know when you want to describe an amalgam of stuff and you add as a clever addendum, the expression: "and a partridge in a pear tree"? Well that's kind of how I feel about this bedspread ($78). But you know something? I think it works. This colorful spread would totally brighten up a room. And besides, there has got to be a partridge on there somewhere…
Two Turtle Doves –
ModCloth is cleverly calling these twin ornaments ($16.99) "Partridge in a Pine" but then why, I ask, are there two of them? I guess I don't really care because they're so gosh darned cute. But I'm not gonna back down. They look like turtle doves to me.
Three French Hens –
Okay, I don't even have kids and while I'm guessing that's the intended sentiment behind these necklaces ($70 – $79), I would still totally rock one. Uber cute and simple. Want. Want. And want.
Four Calling Birds –
Have you ever noticed how many gosh darned birds there are in this song? I didn't. Until I tried to make a wish list based upon the verses of the song. But no matter really, because I do have a bit of a bird fetish. I love birds in my décor and jewelry. Which is why this cool little clippy device ($11.99) would be right at home by my desk.
Five Golden Rings –
Yessss. It's my favorite part of the song. Just ask my parents. When I was a wee one, I would belt out this verse loudest of all. Waving my fingers dramatically. I guess you could say I had a thing for the bling, very early on. My favorite place to look for bling? Tiffany of course. I can't afford one of these rings ($1800), let alone five. But it's fun to look, no?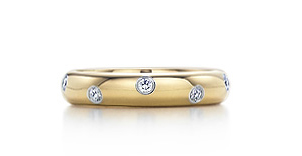 Six Geese a-Laying
Oy with the birds already! But again? How freaking cute is this print set. Much cuter than real geese. True story, I once lived in an apartment complex overrun by Canada geese. Geese are gross. Laying geese are even grosser. That's why I'm trading them in for six non-descript birds a-chillin' on a wire ($250). What? It's my holiday wishlist. I do what I want!
---

Come back tomorrow for part 2 of Jenny's 12 Days of Wishlist. In the meantime, go check out her blog.
{ Comments on this entry are closed }