Here are all of the other Instagram Roundups!
It's been a slow week for Instagrams.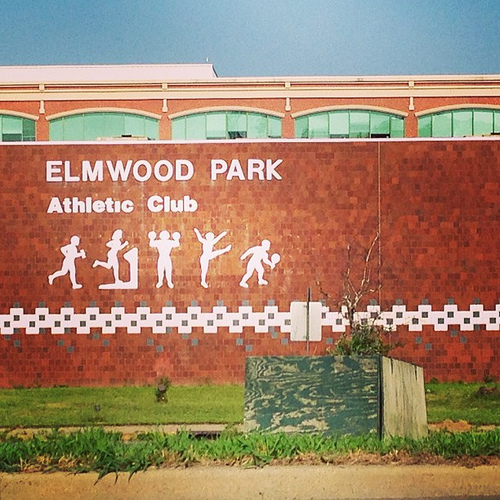 I've been driving past the Elmwood Park Athletic Club for years, and I LOVE the signage. They are now turning this building into a church, so I'm afraid the signage will be going away. I wonder if they would be willing to part with the figures? They are amazing.
Saw this amazing set of triumphant flaming eagles out on the road.
I have lots of products on my nightstand. I'll be writing about that DDF serum soon.
We had a very veggie-rific lunch over the weekend, when Will was trying to cook the vegetables we had purchased. Why do we always make the mistake of overbuying things like this?
Apparently I'm not the only one who misses the keyboard from the BlackBerry. I found this one the other day and really enjoyed pressing the buttons. I've had an iPhone for 3 years and I still suck at typing on it.
My tacos in progress at Chipotle. Not 10 seconds later, there was a hot mess situation with some sour cream. I love my tacos from Chipotle but it is nearly impossible to get them without some sort of problem.
{ Comments on this entry are closed }