The 2012 Formula One season started with back-to-back race weekends when I was really too busy to even be excited about it. 3 weeks until China!
Australia
Can I just say, I am EXCITED for this season already. Other than having to watch Speed Network's F1 coverage which isn't as enjoyable as the coverage from the BBC (and I saw a bit of Sky Sports coverage too, not too impressed there either), the Australia race weekend was full of surprises.


After McClaren locked out the front row in qualifying, Jenson Button pulled ahead at the beginning of the race and stayed there.  Champion of 2010 and 2011 Sebastian Vettel did not do too well in qualifying but pulled out a second place finish after an unfortunately slow pit stop that put Lewis Hamilton into third.  In response, Lewis acted like a baby and pouted during the podium ceremony, instead of enjoying the moment and focusing on the great points haul for McLaren.
My love for Jenson Button is continually growing. I enjoy him so much.
I am devastated that the amazing video I was going to share of Pastor Maldonado's race in the style of Mario Kart is gone now. Poor Pastor was doing so well and crashed out during the last lap. The video blames this on a banana peel, naturally. If it comes back, I will post it.
Malaysia
The Malaysian race had no lack of drama, the least of which was my DVR not recording the last 15 laps because of the hour-long rain delay that had Jenson Button in the hospitality lounge having a cup of tea and some pasta. Seriously, that's what we were hearing while Speed was doing whatever they could to fill time.  We did see some fun footage of old races though, so that was enjoyable. Also, Speed cut most of the delay out when they rebroadcast so I got to see everything else.
McClaren owned qualifying again (Lewis Hamilton on pole, Jenson Button in P2), but this qualifying resulted in Formula One legend (more on that later) and Mercedes driver Michael Schumacher in 3rd position on the grid. I have never seen Schumi get interviewed in the top 3 before, so that was a new experience. Golden Boy (and not my favorite, if it isn't obvious) Sebastian Vettel qualified 6th.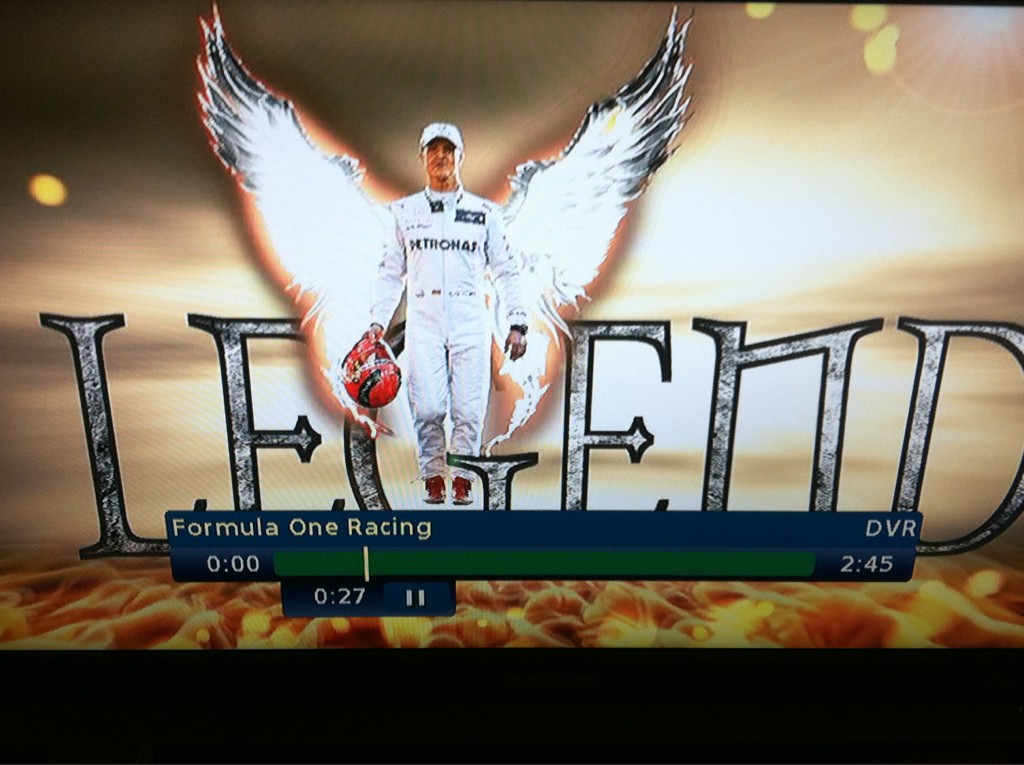 Onto the legend thing. Speed showed this intro where all of the drivers that are past champions were turned into weird comic book characters. I need to find screenshots of the others, they are all hilarious and wrong.
Anyway, so the race restarted after the delay, and other than Bruno Senna plowing through the pack, there were not too many changes in lineup. Both Jenson Button and Sebastian Vettel came together with Narain Karthikeyan, resulting in damage to their cars. Jenson took the blame for his accident, while Sebastian did not take the high road.
He was upset. But the finger wasn't enough.
[youtube QEMb1LuHj-w]
He went out and called another driver an idiot after the race. Clearly, not winning all the time does not make wittle Sebastian a happy boy.
Seriously, Sebastian. Stop it. I like Formula One so much because the drivers are generally not complete d-bags. Don't ruin it.
Fernando Alonso won the race in his POS Ferrari that hasn't performed AT ALL this season.  He was really excited, and I was happy for him too.
However, I cannot be happier for anyone than 22-year-old Sergio Perez of the Sauber team, who was chasing Alonso like crazy at the end of the race, and managed to score his first career podium and BIG points for his team which will make a really big difference in the constructor's championship.  Look at his big smile!  Lewis Hamilton came in third again, and seemed slightly less pissy about it than last week.  I guess 3rd isn't so bad when your teammate, who won a week ago, finishes 14th.
China in a few weeks. The season is so hot already!
{ Comments on this entry are closed }