Click here for all posts in the Brand Experience Project.
This week, I will talk about Space NK Apothecary.
Shopping
Space NK has lovely, clean design on their site. There is quite a lot of information on the homepage, but it isn't too overwhelming. I was specifically looking for a sale page, because I was told about a great sale, and I don't like it when websites do not embrace the easily accessible sale page. I've had enough experience to know that site visitors will visit a sale page to browse around regardless of their original shopping intention.
Ahh, there's the sale page. It appears that each dropdown is customized, since "wellness" doesn't have a sale link, but "skincare" and "fragrance" do.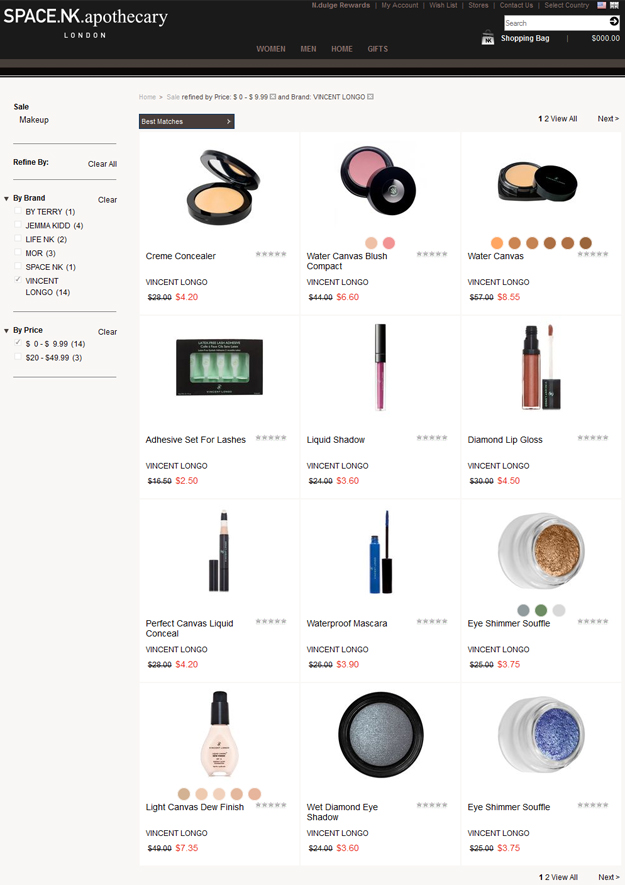 Once in the sale section, I used the filters on the left to get to the Vincent Longo makeup under $9.99.
Here's the individual product page. It is straightforward and helpful – I especially like the callout for "bespoke advice" with the customer service number.
Added to my shopping bag.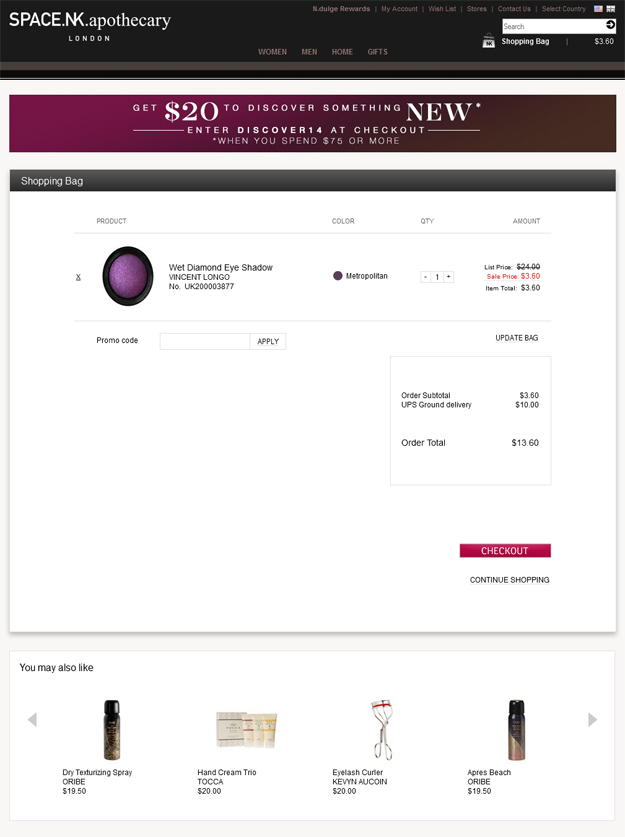 My shopping bag. Readers of these posts know that I am a stickler about shipping information, and this tells me that I will have UPS Ground delivery (it is bugging me that delivery isn't capitalized but I don't know the grammatical rule for that), with no other shipping options presented and no link to shipping info. Hmm.
Some more unfortunate usage of shipping information here at Space NK. There are 2 shipping options, and it specifically indicates that "for 2nd day service, orders need to be placed before 12pm." This is incredibly unclear – why not add something about the turnaround time for all orders? I find it extremely confusing.
Further down, and lost in the text, is the message about free ground shipping on orders over $50. There IS a mention of this at the top of the homepage, but it isn't mentioned again, and they definitely are not taking advantage of their own free shipping like The Body Shop has demonstrated. Why not tell me in the cart that orders over $50 get free shipping? If I was at $32 in the cart, and saw that I was going to have to pay $10 for shipping, I would be completely inclined to find $18 in product to get the free shipping. That's $18 more in actual product purchase, which will seriously add up, all by telling your customers about their options.
Checkout
Time for checkout. I've already been over the issues with the lack of shipping info, even though I think $22 is low enough where I would not invest an additional $25 for free shipping.
This page is fine, but again, with the shipping information and a lack of link to the page with the full shipping info, no mention of the turnaround time for orders, etc. Not to mention that the capitalization inconsistencies in the shipping box are making me crazy!
Another turn to confirm my order before submitting it. I am appreciative of reminder images of my items at this point.
Success! My order is confirmed. Again, frustrated with the lack of information about when my order will be processed and shipped.
I made this small and unreadable, but want to show that their branding continues to the email. Unfortunately, their need for a copywriter/editor also continues here. There are inconsistencies in the language and way that times etc are handled that look very unprofessional.
Packaging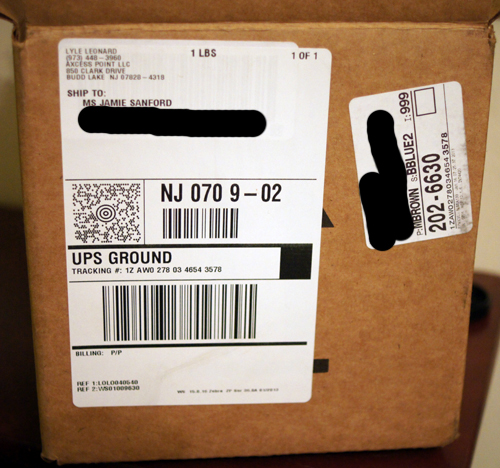 Confusion during packaging. Note the strange return address. The box is mostly unremarkable, and not customized or branded.
Ahh, some research tells me that Space NK is using a 3rd Party Logistics company to ship their orders. However, when hiring such services, there must be an option to show the point of purchase name? I had no idea what this was when it arrived.
The order documents were in a lovely branded envelope.
Wide shot of the envelope, which was carefully tucked into the box.
Here you can see the state everything was in when I opened the box.
Ooh, what's this?
I really love this, because I am really into nice shopping bags from stores, and you rarely get a bag when you place orders online.
There were lots of fun samples in the bag!
My ordered items were treated very well, carefully wrapped in basic but still enjoyable packing material. Everything arrived in pristine condition.
So, as you can see, there are certainly things to be improved with this Space NK shopping and delivery experience. I think they are fairly basic fixes that would bring this entire shopping experience up significantly.
There you have it. Do you have a shopping experience with Space NK Apothecary? Do you have another website I should check out for the Brand Experience Project? Let me know in the comments or send me a tweet!
Save
{ Comments on this entry are closed }