Sorel Shoe Party
I was introduced to Sorel within the last year or so, I saw a few pairs of fabulous snow boots on some bloggers, and I've wanted a pair ever since. My current snow boots are too embarrassing to even share, I definitely need an upgrade. Of course, the best way to do this is to have a shoe party and look at my Sorel options.
The description of the Sentry boot is…
Luxe Italian felt is mixed with a casual sneaker vibe for a stylish winter boot with a retro look.
These are not waterproof snow boots, but I'm sharing them because I think they are very cute.  The Sorel Sentry boots are available from Zappos for $130.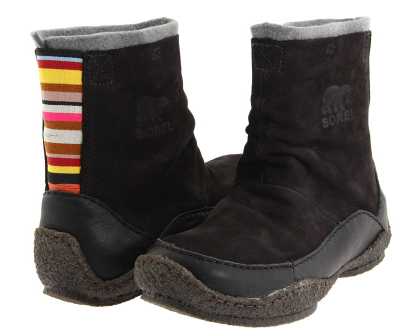 These are also not waterproof, but I love that multi-color stripe on the back.
They'll be forced to give you and your boots a second glance with the smooth, sophisticated look on the front and the fun, eye-catching striped elastic strip on the back of the Sorel® Fernieâ"¢.
These look so warm and cozy, perfect for cold days when I don't want to wear giant snow boots but need to keep my feet warm.  The Sorel Fernie boots are available from Zappos for $120.
Pink rain boots. What else is there to say?
Slip and slide no more with the extremely durable and versatile Tivoli™ Rain by Sorel®. Waterproof leather and canvas upper for added protection and durability. Fabric lining for added warmth and style.
These are so cute for wet, rainy weather. The Sorel Tivoli rain boots are available from Zappos for $110.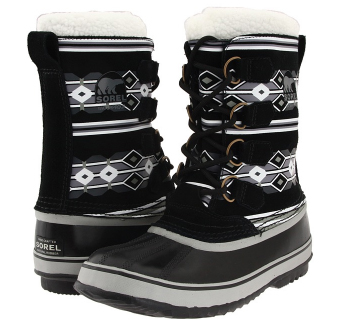 Sorel offers a number of boots that are weather-friendly and have some style. Love.
Take a blast to the past with the retro graphics of the '1964 Pacâ"¢ Graphic' boot from Sorel®. Waterproof suede leather upper for seam-sealed protection. Removable 6mm washable, recycled felt InnerBoot.
These might be the ones I pick. The Sorel 1964 Pac Graphic boots are available from Zappos for $120.
These were my original first pick, I think I saw them on someone else and liked them.  However, my new favorites are up next. These are still super cute though.
Waterproof, full-grain leather upper. Removable 9mm ThermoPlus® felt InnerBoot provides superb warmth, moisture transfer, comfort, and durability. Acrylic/wool blend snow cuff. 2.5mm bonded felt frost plug in the shell to provide an extra layer of insulation and warmth. The frost plug is a 2.5 mm piece of EVA that is in the heel and forefoot. Handcrafted, waterproof, vulcanized rubber shell.
These are serious boots. My feet would be warm for days! The Sorel Caribou is available at Zappos for $130.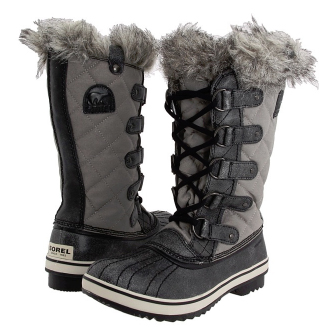 Since I would prefer taller boots, I think that Tofino here is the winner.
Functional and fashionable, the Tofino™ by Sorel® gives you the protection, durability and style that you want and deserve. Waterproof waxed canvas upper with leather overlays for unique styling. Charming faux fur cuff. Sherpa Pile lining adds extra warmth. Waterproof leather shell has a comfortable, sneaker-like fit. Non-slip molded rubber outsole gives you the grip and traction that you need on wet surfaces.
Yay! I picked out boots! It's too bad I didn't think about this before the freak snowstorm we had over the weekend. The Sorel Tofino boots are available from Zappos for $140.
Which ones do you like the best? Check out all of the Sorel boots on Zappos here.
{ Comments on this entry are closed }