Click here for all Formula One-related posts on JamieSanford.com.
Valencia and Silverstone! I am so behind on Formula One posting.
Europe (Valencia, Spain)
Spain was exciting because it was getting to the point where SOMEONE had to be the second to win more than one race in a season. Fernando "Eyebrows" Alonso was hoping for a chance to win or at least end up on the podium at his home race, but ended up starting 11th after qualifying. I was feeling like we would see Sebastian Vettel pick up the win as he was starting from pole, but the race went a different way.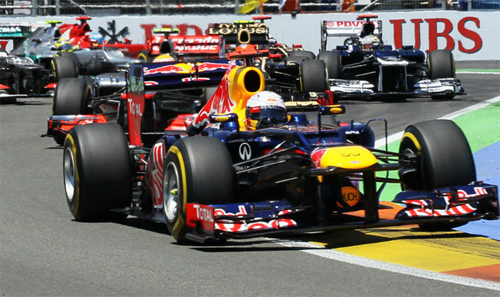 (Photos from Planet F1 – click for their full gallery)
So Vettel got off to a good start, as is normal for him, and looked to be building himself quite a lead. However, the safety car was determined to rain all over his parade. Meanwhile, Eyebrows had worked his way up from 11th and was in 3rd when the race restarted post-safety car deployment. Fernando moved into second over Romain Grosjean, and then in lap 33, Vettel's car just seemed to shut off. (This happened to me once, it was the timing belt. Do Formula One cars even have those?) He was CLEARLY pissed, and stomped off to pout about it. Meanwhile, Eyebrows Alonso was fast on his way to winning his second race in 2012. Meanwhile, Lewis Hamilton and Iceman Kimi Räikkönen were battling for 2nd. Kimi managed to pass Lewis, and soon enough, Master D-Bag Pastor Maldonado managed to catch up with Lewis and pull a dick move that ruined his own race and ended Lewis'. Pastor finished 10th, but was downgraded to 12th after a 20-second penalty was applied for causing a collision. Keeping cool throughout the drama, Michael Schumacher ended up finishing 3rd, his first podium since 2006.
(Photos from Planet F1 – click for their full gallery)
Fernando knows which way to point the champagne.
Great Britain (Silverstone)
This race was not too long before the Olympics. I guess England decided to just get all of the rain of the year out of the way in a few weeks time, because it was hella rainy, and watching Friday practice was a joke. Even after the track dried, everything else was still a soggy mess. Like the grass.
(Photos from Planet F1 – click for their full gallery)
The race started without much drama, save for that with Paul di Resta, who suffered a rear puncture so early on that he retired after finally making it back around to the pits. Fernando Alonso held on to the lead for the majority of the race, until eventually being caught by Mark Webber, on a different tire strategy. Alonso did not put up much of a fight as he seemed to know it was a lost cause, but managed to retain 2nd place over Sebastian Vettel who finished 3rd. Pastor Maldonado ended up shooting himself in the foot again by colliding with Sergio Perez, causing Perez to have to retire, and left Maldonado well out of the points in 16th. Maldonado was fined 10,000 Euros for causing the accident with Perez. Ass.
(Photos from Planet F1 – click for their full gallery)
This happened on the podium. Lots of win for Mark Webber.
Next up, Germany and Hungary.
{ Comments on this entry are closed }