27. Zack and Miri Make a Porno (Not available to view on Netflix Instant Watch)
This is another Kevin Smith film! Use this link to get to the posts for the View Askewniverse movies.
Here's the trailer for Zack and Miri Make a Porno.
[youtube EtRjr6eJ_rY]
I saw this movie in the theatre, the night it opened.  It was supposed to be a big giant opening, but having opened on a Halloween that fell on Friday, it sort of tanked, despite being a movie that I think should have done really well at the box office. I loved it when I saw it the first time and still love to randomly watch it on TV.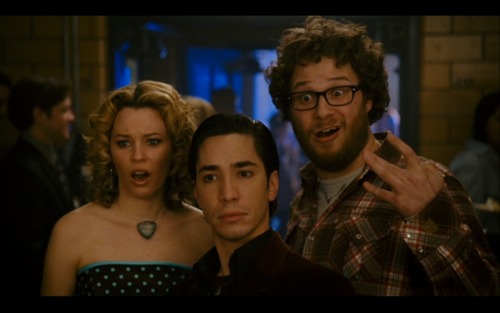 So, Zack and Miri are friends who live together, have known each other since they were kids, but have not pursued a romantic relationship.  They attend their high school reunion at a point where they are having trouble paying their bills, and soon after, decide that filming a distributing their own adult film is the way to get out of debt.  Hilarity and sweetness ensues.
The movie stars Seth Rogen and Elizabeth Banks, who are both great, and the rest of the cast includes Craig Robinson, Katie Morgan, Jason Mewes, Traci Lords, Ricky Mabe and Jeff Anderson.
Note, this is a movie about making a porno. It's rated R and is not appropriate for kids and probably not for your grandmother.
As I mentioned, I love this movie. If you are into Judd Apatow films or other Kevin Smith films, you will enjoy this movie. I highly recommend buying the DVD.
Zack and Miri Make a Porno is available on DVD from Amazon for $7.56.
{ Comments on this entry are closed }