78. Scream (available to stream on Netflix and Amazon)
Here is the trailer for Scream.
[youtube UTWf9QGdJCQ]
Scream is what brought back scary movies in the 90s.  Released in 1996, it launched a string of scary movies released in the following years.  Not so much horror films, these movies were lacking in severe blood and gore, but lots of suspense and murders. (Spoiler alert starts now!)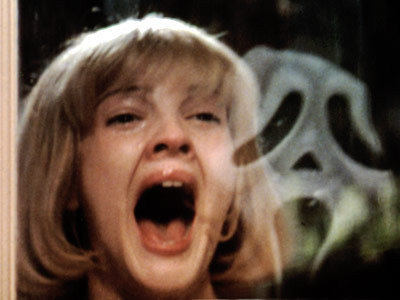 Drew Barrymore GETS IT in this movie. And her little boyfriend too.
The story opens with a heinous double murder where the killer calls Drew Barrymore and taunts her like crazy with movie trivia and killing her boyfriend before eventually killing her too.  This is a BFD in the little town of Woodsboro.  We meet Sidney Prescott (Neve Campbell), and find out that her mother was murdered the previous year.  We also meet her friend Tatum (Rose McGowan), her boyfriend Billy (Skeet Ulrich) and Tatum's boyfriend Stu (Matthew Lillard).  Supporting cast includes reporter Gail Weathers (Courtney Cox), Dewey (David Arquette) and Randy (Jamie Kennedy).
Sidney gets stalked on the phone by the same killer and is attacked in her house.  From then on, its a string of death until we finally find out who the killer is.  Who they are, actually, but that's all I am sharing.
I love Rose McGowan! She's great in this movie, and her death is awesome!
This is a great addition to your October movie playlist.  It's funny and scary and twisty and even if you've seen it before, it is fun to watch again.
Scream is available on DVD from Amazon for $13.89.
{ Comments on this entry are closed }