I've known about Betsey Johnson and her brand for years and had some Betsey Johnson shoes back in college, but I realized while shopping online that I don't currently own any Betsey Johnson items.  This needs to change, especially in the shoe department.
Let's get going with some picks from the Betsey Johnson shoe collection.
I think you can tell that I love a glitter pump.  This one is pretty perfect. The Ruby Pumps with Glitter are on sale for $119 from the Betsey Johnson website.
I grew up in Florida where flip flops are the standard. I still love them during the summer. These are too cute to pass up. The Evaaa flip flops are available for $38 from the Betsey Johnson website.
Skulls+crossbones on a rain boot? I am so in. The Baxterr rain boot is available for $69.95 at the BJ website.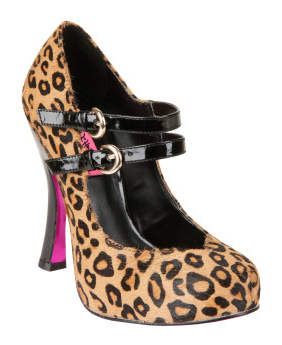 I love a Mary Jane, and this one is leopard print with a fabulous pop of pink. They look like I'd have trouble walking in them, but they're so cute that I can't resist.  The Tease-P Leopard Maryjane is $129.95 at the BJ website.
I'm loving so many shoes on the Betsey Johnson website. What's your favorite?
{ Comments on this entry are closed }