Here are all of the other Instagram Roundups!
When we left the NJ State Fair, we stopped at this amazing field of sunflowers. It was pretty magical.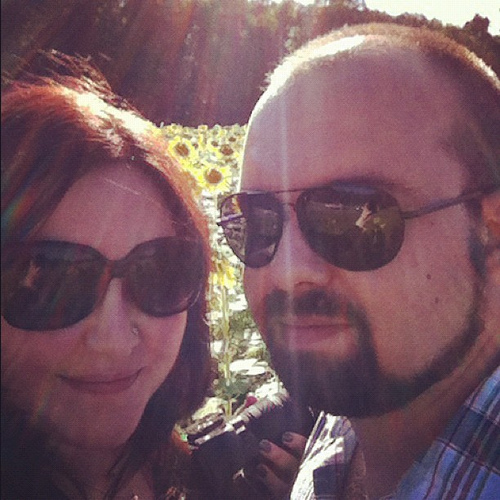 We went back to see them again with real cameras. The light was all wrong but I did take our photo while we were amongst the flowers.
This necklace is a cheap something that I got in high school. I found it and pulled it out when going through some things, and every time I wear it, I get compliments on it, which cracks me up. I have a feeling that all of my 90s jewelry featuring sunflowers and/or yin-yangs would not be as well-received.
Speaking of my youth, while going through a few boxes of family stuff (some of which is really old and I will get to that in a few months) and found what is my 3rd or 4th grade school picture. Behold my mullet and Scottie Dog outfit. Pre-braces too. Oy.
I also found this incredible photo of my paternal grandfather Hillis.
Also found in the historical stuff was a newspaper from 1941. This ad for a RUBBER girdle is sort of terrifying. But branded with Miss Universe, so I guess it worked?
{ Comments on this entry are closed }