I'm finally posting photos of our 10th anniversary vow renewal! It's been a month already! This post is dedicated to the details.
This post contains affiliate links, which means I receive a small commission if you make a purchase using these links.
These photos were made by me, taken with the Sony Alpha a550.
I am brewing a blog post about my forays into making, and earlier projects from the year made me believe that I could make this bouquet. While I was at it, I made the boutonniere for William.
Some of the flowers had dice in the center, some had rhinestones.
The bottom looked unfinished, so I was able to utilize some beautiful poker chips to dress it up.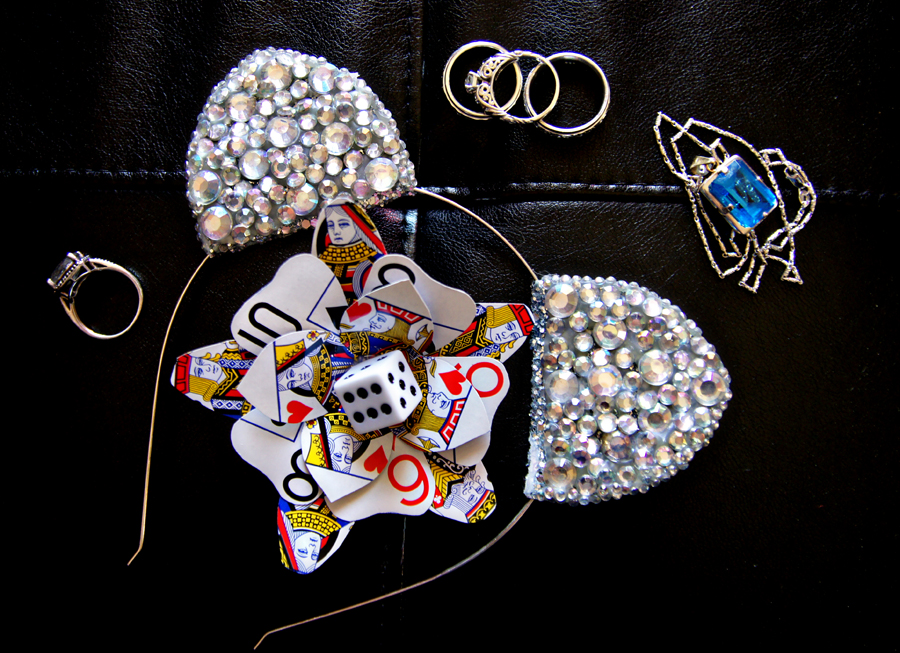 These beautiful ears are the Liberace ears by Rock 'n Roll Bride for Crown and Glory.
This champagne was great for photos but did NOT taste good at all. My sunglasses are from Amazon!
Our new rings are from Apples of Gold. We bought our original weddings bands from Apples of Gold 10 years ago!
I've had the belt for years and do not remember where it was purchased. The dress is an anomaly – after searching for months to find a dress that was what I wanted, I bought random dresses from Amazon and this was the perfect one.
One more post coming up – this one will be about our experience at the Little Church of the West.
Save
Save
Save
{ Comments on this entry are closed }