Click here to see all of the previous Polish Project posts.
32. Color Club Revvolution
33. China Glaze Marry a Millionaire
I own only one Color Club polish, and it's a good one. You can't see that Revvolution has a holo effect in my picture, but it does. Then there is sparkly glitter nail.
Thoughts: The more I do this project, the more I realize that the best testing would be to group colors and wear them together, as I did with the pastels and am currently wearing with blues. I like this one a lot, but will also put it back in the rotation for when I wear a bunch of grey polish at once. The China Glaze applied really well and didn't chip off quickly, as is my experience with most glitters.
Verdict: Keeping them both for now.
34. Sally Hansen Midnight in NY
35. Sally Hansen HD DVD
36. Zoya Maisie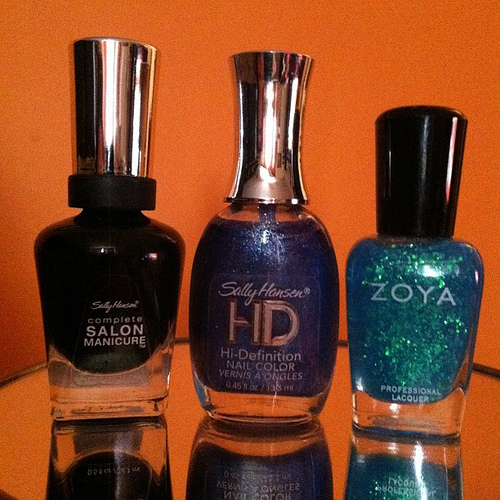 Let's start with talking about my complete failure with not buying polishes when presented with Nouveau Cheap's information on the CVS clearance event. I ended up caving and buying 6 bottles of Sally Hansen HD polish, because they were only $1.85 each and I could not resist. Even if I end up hating all of the others, I would have EASILY paid $10 for the one bottle of DVD.
I am having a hard time not buying polishes lately. I keep seeing awesome things online and it sucks. If anyone wants to buy me some Up Colors flakies on Llarowe, I'll happily take them.  This Zoya here is the only one I have from the brand, and it's made me a big fan.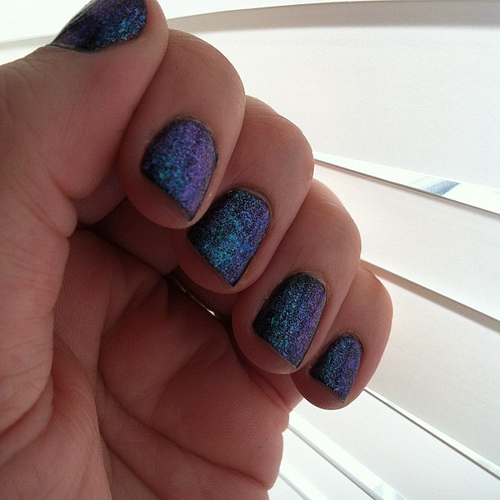 Thoughts: Midnight in NY is another great Sally Hansen Complete Salon Manicure color. However, the brush in my particular bottle is a bit wonky which pissed me off quite a bit. I started getting better at adjusting for the crap brush by the end of the base coat round. I then painted a layer of DVD over it, and WOW. It's really beautiful. In the picture above, you can see the duochrome happening between greeney-blue and purple. I also got a little holo feeling to it. It's basically the bonertown of topcoats.
Naturally I could not leave well enough alone, I painted a coat of Zoya Maisie on top, and I can't believe I have not used this flakie polish 100 times before. Also, I could not photograph it AT ALL but it definitely added another dimension to what was my favorite manicure so far in this process. It also lasted FOR DAYS before becoming compromised.
Verdict: I am sure it is obvious that I will be keeping all of these.
Next up, I try another one of the Sally Hansen HD polishes, and I go back to 5 polishes at a time to test out my large collection of blue polishes!
{ Comments on this entry are closed }