Click here to see all of the previous Polish Project posts.
153. Wet 'n Wild Once Upon A Time
154. Wet 'n Wild Rest in Pieces
Wet 'n Wild Fantasy Makers Once Upon A Time & Rest in Pieces.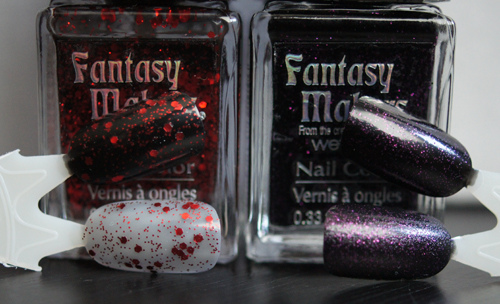 Top swatches are 1-2 coats over a black base. The bottom swatches are each polish alone, 1-2 coats each.
Rest in Pieces, close view. You can see that the glitter bits are much more condensed when I used the polish alone to achieve opacity. Over black was much more subtle.
Once Upon A Time, closer view. This obviously is a layering polish – I wouldn't wear it alone. It was fun to wear over black though. I love multi-sized glitter.
Thoughts: I got these for 75% off after Halloween and didn't expect much. However, they are both totally serviceable. I know I have other dark purples, but the bottle is a tombstone which gives extra points.
Verdict: These get to stay!
{ Comments on this entry are closed }