Click here for all Formula One-related posts on JamieSanford.com.
Be sure to check the Formula One wiki for more complete results, or visit Planet F1.
Great Britain
The dramatic weekend at Silverstone started with the announcement that Mark Webber would be leaving Formula One at the end of the year to drive for Porsche at Le Mans, amongst other places. I look forward to seeing Mark again, he's been enjoyable to watch as an F1 driver.
At the driver's press conference on Thursday, there was lots of chatter regarding Mark Webber's departure. All 4 British drivers were there to discuss the season and the upcoming race. Fernando "Eyebrows" Alonso decided to take Lewis Hamilton's photo.
Here's the photo Alonso took. (Source.)
This image is from someone on Tumblr, apologies for no link.
Alonso has removed the patchy beard bits, but now looks like his own evil twin. WTF.
Photos from this point forward are from Planet F1.
Jenson Button looked pretty positive on Saturday – he must not have heard that I dropped him from my F1FRL fantasy team.
After qualifying, it was the 2 Mercedes cars on the front row AGAIN! I'm partial to any result that doesn't end up with Sebastian Vettel holding his finger up, because I find that obnoxious.
How great is this image of Lewis Hamilton greeting the crowd, surrounded by track ladies?
The start was great for Lewis Hamilton who managed a decent gap to Vettel who had passed Nico Rosberg.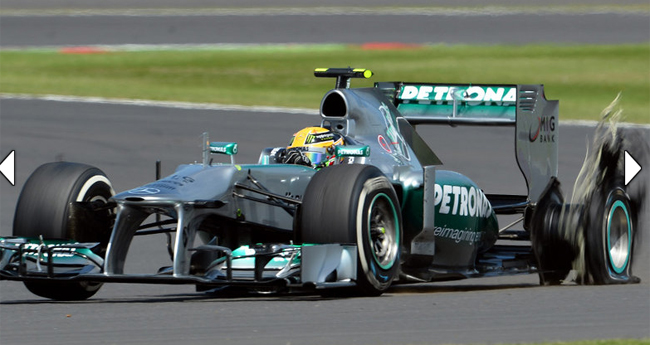 I was gutted (along with TONS of British fans I imagine) when during lap 7, Lewis Hamilton's rear tire explosively failed. After this, rear tires on Massa, Vergne, and Perez failed in the same way, meaning that tiremaker Pirelli will have some questions to answer.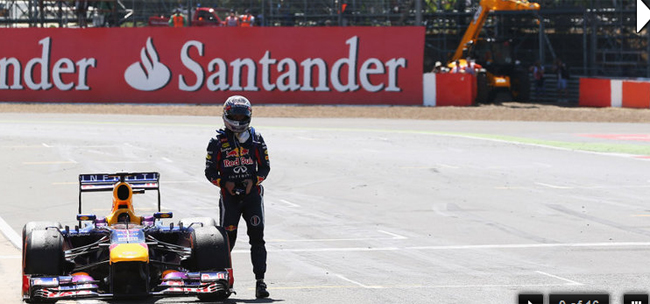 While Lewis was busy fighting his way back to 4th from dead last, Vettel had taken the lead. About 3/4 through the race, his gearbox went off, and his race was over. The field got super tight because they called a safety car out while they removed his car from the track.
Having managed to maintain position from the race start, Nico Rosberg emerged victorious, giving him his second victory this season. Mark Webber had an absolutely horrible start, but fought like MAD in the last few laps to move up to second. He was definitely helped along by Kimi Raikkonen's tires taking a turn for the worse, which must be a sore subject for Lotus by now, since this has happened multiple times. Fernando Alonso missed being slammed with Perez's exploding tire debris to pass Raikkonen and take 3rd, closing his championship gap to Vettel to just 21 points.
Next week's race is at the Nurburgring, in Germany!
{ Comments on this entry are closed }