Click here for all posts in the Brand Experience Project.
Sometime in the last 6 months or so, I started getting my lunches from Panera. While not the cheapest option available, it is such a vast improvement in quality over fast food options that I have been happy to take the hit. Their rapid ordering system is great, I can pre-pay for my order online and it is ready to pick up when I get there.
This week, something on the homepage caught my eye.
Watch the trailer? For soup? I'm intrigued.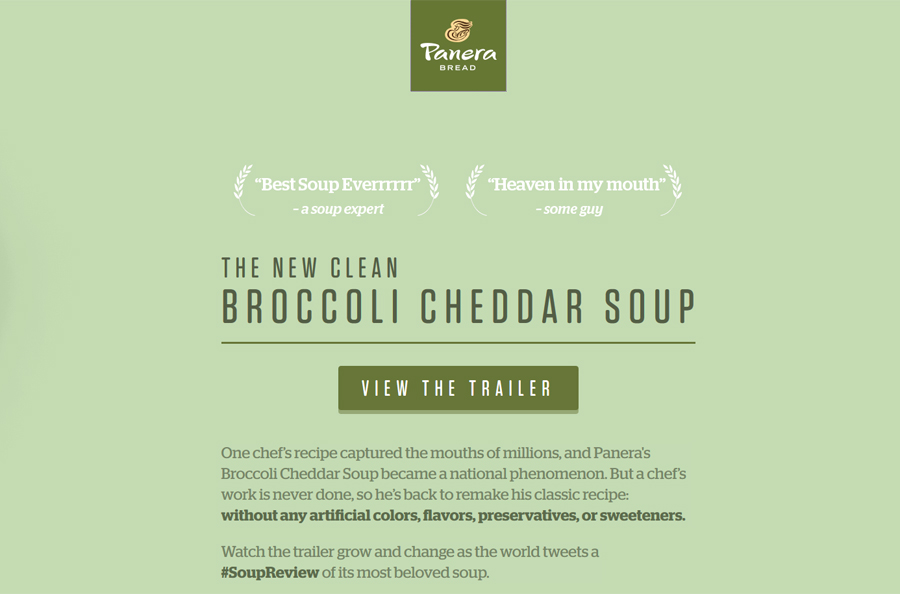 I am surprised and delighted to find this charming and funny page, touting the updated recipe for the popular Broccoli Cheddar soup. As anyone who makes movie posters will tell you, anything surrounded by those branches looks fancy and official, so the quotes within are even more entertaining.
The original soup trailer:

Please note that the version embedded here is the original version. Here is a look at what is underneath the embedded video on the #soupreview page.
If you watch the version of the video on this page, you can see that the Panera team has continually updated this video to include tweets that have come in about their soup with the hashtag #soupreview. It's irritatingly long now, but there are a lot of funny and honest tweets coming in about the new "clean" version of the broccoli cheddar soup.
In addition, you can share the video easily via Twitter or Facebook. I'm guessing this is more for those wanting to share after they have been added to the video.
Hits
Humor! This video manages to be funny while totally selling the point, that the soup is now made with fresher, non-artificial ingredients
Improved soup, obviously. We all like eating less artificial ingredients.
Clean design – this page stays to the point and doesn't include 100 different things. The message is clear – please watch the video and then tweet about our updated soup.
Misses
While I like the idea of adding the tweets to the video, the video is now incredibly long, too long. I would prefer another way to showcase the tweets than only in the video. What would be a wonderful addition would be a way to easily create a social-friendly square image that would easily be shared and spread!
The sharing options are weak at best. Only allowing sharing on 2 social networks is weak – where is Tumblr? Google Plus? These are both video-friendly so that isn't an issue – if my tip above was taken into account, Instagram would be in the mix as well.
It is a great idea by the Panera team, I am just sad that there is such a major miss in making it EASY to share in more locations. To go to all of the trouble of creating the content and not to completely follow through is disappointing.
Save
{ Comments on this entry are closed }