I am excited about today's item, something else I am now going to have to purchase for myself. I know that many of us have a big mess of cords and wires in multiples areas of our homes, so this is a great solution.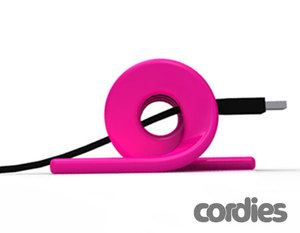 Cordies are weighted rubber, designed to sit on your desk and hold on to the many cords that are coming out of a power strip or the computer to attach your iPod, cell phone, camera, etc.  I have experienced cord loss many times, the end result being myself or my husband digging in a mess of cords on the floor trying to get everything disentangled.
Cordies are available for pre-order for $12.99 each.  They are scheduled to ship in late March.
{ Comments on this entry are closed }