Click here to see all of the previous Polish Project posts.
49. Milani Neon Rad Purple
50. Milani One Coat Glitter Purple Gleam
51. Milani 3D High-Res
52. Milani One Coat Glitter Twinkle
Milani Purple Collection.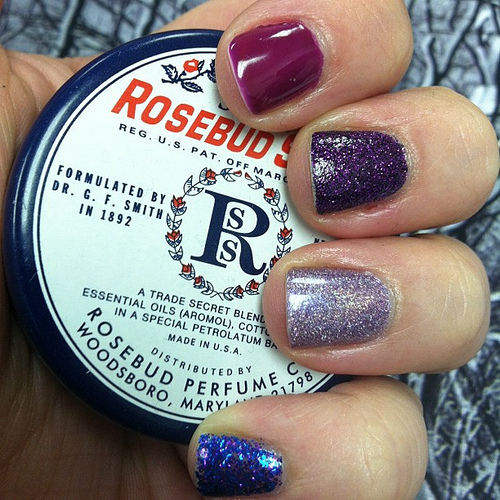 Milani purples, on the nail.
Thoughts: Milani Neon Rad Purple stained the crap out of my nails. I had base coat on, so this is especially impressive. Purple Gleam was sort of hard to apply but looked really nice on the nail when finished. Hi-Res is a holographic polish I've had for ages and never appreciated. I love that one. Twinkle is in the same collection as Purple Gleam, but Twinkle is really not meant to be worn alone, the glitter bits are too big for that. I will try it again over black.
Verdict: Everyone gets to stay except Rad Purple because I am throwing that one in the garbage. I can't recycle a polish that stained so badly.
Greens up next!
{ Comments on this entry are closed }