Click here for all posts in the Brand Experience Project.
If you read this post about my first experience with Neiman Marcus, you will see my extreme disappointment with the way my items arrived at my home.  While recreating the purchase experience, I bought a single item, a jar of this cream by Kiehl's, and naturally, took photos when my package arrived.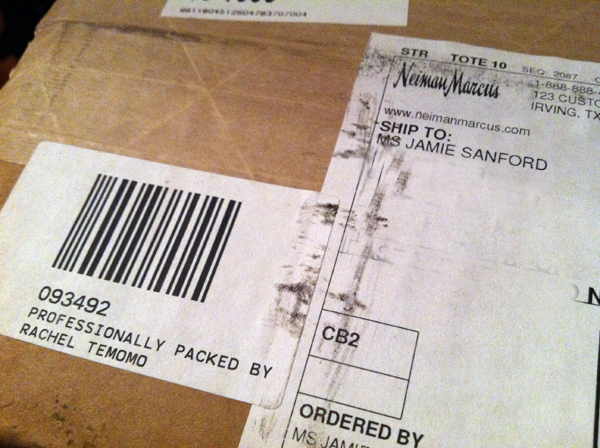 Someone different from Neiman Marcus put my package together this time. Thanks Rachel! (I have nothing to say about the condition of the box this time – I also give big props to FedEx for putting the box on my doorstep (in an apartment complex) in a plastic bag because it was raining.
Already an improvement! Rachel from Neiman Marcus took the time to fold my packing list in half, which is already vastly better than the last package.
Another package insert.
Unfortunately, the boring paper remains standard for Neiman Marcus packaging.
And here you have it. Again, not really a breakable item, so I don't expect a ton of bubble wrap, but it is just standard and not impressive.
Overall, this is much better than the last package I received from Neiman Marcus, but I still believe that they could have a more sophisticated packaging process. Even slightly different interior packaging material could make a big difference in the presentation.
I will continue to revisit any more sites I've written about in the past as content becomes available.
Save
{ Comments on this entry are closed }