Here are all of the other Instagram Roundups!
It's going to take me weeks to catch up on Instagrams. Our South Dakota trip was pretty amazing, and it all started with a wedding in Mitchell.
After flying back from Savannah on Thursday, it was back to EWR on Friday morning at 5:15am.
We connected to Sioux Falls through O'Hare, and saw a dinosaur while walking to our terminal. I also managed to get a Power Punch from Smoothie King, which tasted like memories of college.
We are happy to be on our last flight of the day.
Welcome to Sioux Falls! The smallest airport I've been to – there is one "terminal" with 7 gates.
Our first stop upon arriving in Mitchell was Michael's Toggery, to pick up Will's rental tux. Downtown Mitchell was full of amazing signage.
I don't go to Walmart in New Jersey because it is terrifying. We had no choice but to hit the Mitchell Walmart, and I have to admit, it was pretty glorious. I tend to purchase a hat on every road trip we take, and this trip's hat was an amazing fedora I found on clearance at this Walmart. I think I paid $3? You'll see the hat in upcoming posts.
After the rehearsal dinner on Friday night, it was time for some Mitchell nightlife. This bar was AMAZING. It had a proper bar, a hunting video game, a dance floor, an outdoor loungey space, and a beach volleyball court in the back.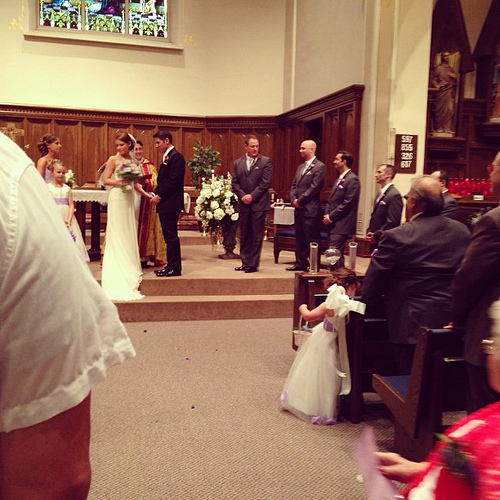 On Saturday was the wedding. Congratulations James and Sara!
Here's our cocktail hour selfie. Somehow we managed to not get a real picture of us while we were all dressed up.
Wedding photobooths are the best idea EVER.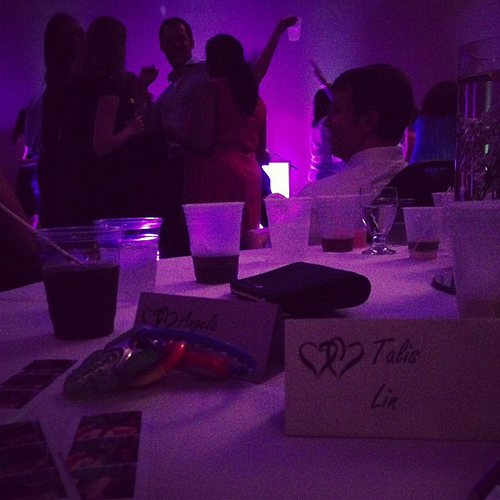 This was around the end of the reception. This looks about right.
More from the road trip through South Dakota next week!
{ Comments on this entry are closed }