I really like my jewelry pieces to be interesting and sometimes quirky.  I get comments on my engagement and wedding rings quite often, because they both are not plain and my wedding ring is pretty big.  Anyway, I was excited to find Rachel Pfeffer Designs on Etsy because the jewelry in her shop totally fits my personality.
Mini camera necklace! I love to take pictures and I've posted camera jewelry before, so I can't resist.
Product description:
Now you can wear a tiny Holga around your neck! This little pendant is hand formed from sterling silver wire by yours truly. The flash is a small moonstone cabochon. It is on a short 16 inch sterling silver chain but can be put on an 18 inch one. It is handmade so no two will be exactly alike!
Rachel Pfeffer's Mini Camera Necklace is available on Etsy for $84.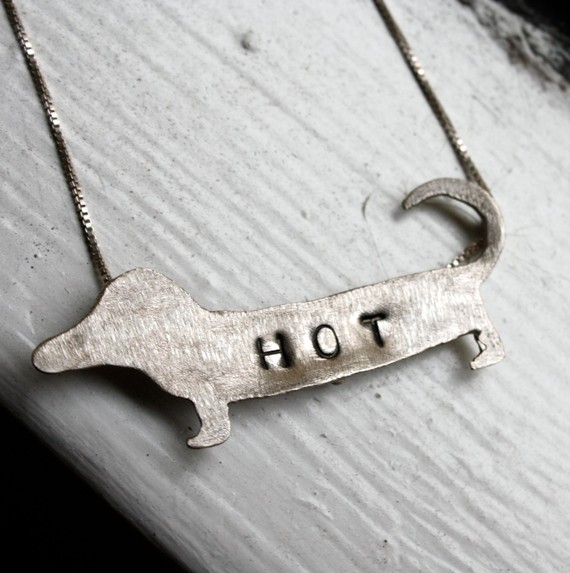 Another dachshund! I'm going to end up getting one myself at some point (the dog, not the necklace – although if I have the dog, I might want the necklace even more).  Anyway.
Product description:
A cute, texty twist on the classic sterling silver hot dog pendant! He's cast from an original hotdog that I hand pierced with a jewelers saw and then soldered three little rings to the back. I hammered HOT on the front, darkened the letters, and gave it a bright, brushed finish! He hangs on an 18 inch sterling silver chain.

The puppy is solid sterling silver, and no two look exactly the same! Lettering can be customized, just give me a message.
The Hot Dachshund necklace is available from Etsy Seller Rachel Pfeffer Designs for $72.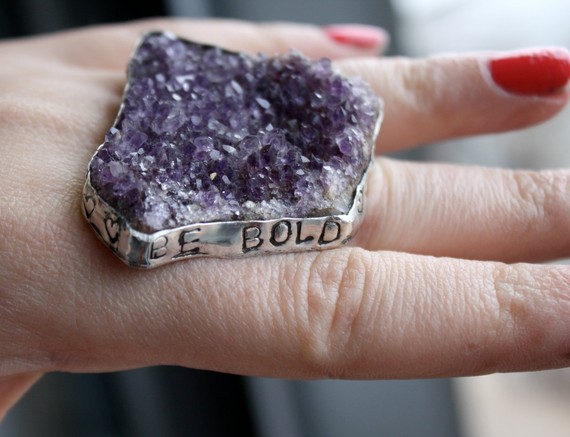 This ring doubles as an awesome weapon.  Be bold, indeed.  Seriously though, I love amethyst and this is a mighty big chunk to put on your hand.
Description:
You'll be infused with boldness when you wear this ring! And how could you not? It commands you to be right there on the side.

I set a beautiful and very lightweight lavender amethyst geode set in handmade sterling silver bezel. The stone itself is amazingly flat, and the ring is incredibly comfortable. It has a double band and the stone sits flatly on your finger, overlapping the surrounding ones! (most comfortable when worn on middle finger.)

I stamped little hearts all the way around the bezel, and the words "be bold" decorate one of the sides. The bottom of the bezel was cut out of an engraved vintage sterling silver award plate, and the word "wishes" is legible on the bottom, adding a secret bit of whimsy.

The ring is currently a size 6.5, but fits more like a 7 because of the broad, flat top.

This ring is completely handmade and one of a kind, so get it before it's gone!
This kickass "Be Bold" Amethyst Ring from Etsy Seller Rachel Pfeffer Designs is available for $124.
{ Comments on this entry are closed }