Click here to see all of the previous Polish Project posts.
THE CONCLUSION!
OK, first, let's see where this all began:
For some reason, it never occurred to me to take a picture of the before shelf with a real camera instead of my phone. Either way, you get the idea. My homemade shelf was STUFFED with polishes, you can sort of see some of the bulging in a few spots. It was clearly out of control. I had no more room to shop, and no REASON to shop.
The Project
So I started this little project, where I figured I should test all of the polishes before I bought any more. I started testing polishes one by one, painting my nails and commenting on a spreadsheet derived from Sara's about application and staying power. I took pictures with my phone and blogged about them.
Soon enough, I realized that this was going to take a long damn time, and started grouping polishes by color. I wore a series of 5 pastels at one time – the Easter egg manicure, and did color gradients with purples, reds, blues. The grouping certainly helped things move along much faster. And meant less time exposing my nails to the acetone – and I still use acetone because of this amazing Target plastic bristle jar of polish remover.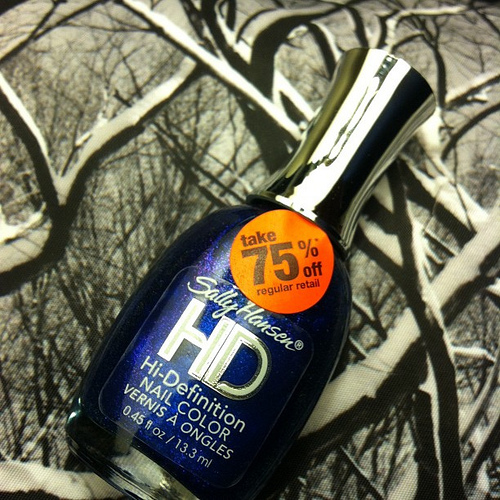 I don't remember how long it took me to break and buy polishes. I do believe I broke down when Walgreens was having a clearance event, and the Sally Hansen HD polishes were something like $1.25 each. I just checked and I was only on post 7, but it was a tough road to go from just collecting polishes to nothing. I bought a few, fell absolutely in love with the first one, and then hunted down the rest, all on clearance. I didn't feel as bad about it.
So, from there, I bought a few here and there, sometimes on sale, sometimes just stuff I could not resist. I bought Fergie's Hollywood Walk of Fame because I wanted those stars, and I bought random Orlys because they looked gorgeous. (The Orly polishes did not disappoint.) I definitely picked up some Hunger Games polishes when they were on clearance at Sally's too, although 2 were for my Mom, who has benefited the most from this experience.
Perhaps the greatest success of this project was Mom telling me that she can't even look at her old polishes anymore since she has so many fabulous new ones – and let me tell you, Mom had a penchant for some unfortunate brick-hued polishes before. I'm pretty sure her favorite out of what I've sent was either a Nicole by OPI shimmery orange (which I can't find so I think I gave it to her pre-project), or King Arthur by A England. I am going to try to get her started on layering polishes when I see her for the holidays.
So, here at the end, my polish shelf doesn't look all that different, at least if you only glance at it.
It looks full, right? Also the picture is 1500x better. Either way, you can see that the polishes are not all cramped and shoved in together like they were for the first image. The top 2 shelves are all OPIs, including minis. Then we have China Glaze, Orly, Essie, Sally Hansen, NYC, A England, Sinful Colors, Milani, Revlon, LA Colors, Zoya. The bottom row has Wet 'n Wild on the far right, with Sephora by OPI next to them, and the rest of the row is single polishes from brands I have not frequented.
Lessons Learned
I very much prefer dark polishes to light ones, although the light ones have their moments.
I do NOT need every polish in a collection because they are a collection. I know now to check out blogger swatches and decide which polish is something I really want to wear.
A England polishes are superior to anything else I currently have in the collection. I bought 3 more of them last week because they had a sale – I have no regret or shame about it. If I was forced to, I would give up the rest of the collection and just use A England forever.
I need to get more into layering polishes. My favorite manicure of this entire project was a 3-layer creation.
I suck at stamping, and I'm not sure I care.
The dotting tool is totally fun. Not as fun as asking your husband to draw dots on your nails with a nail art pen though.
I am going to attempt to keep track of the polishes I use most frequently in 2013. I figure that this is definitely the next best way to cull the herd. I definitely still have a lot of blue and purple polish, probably more than necessary, but things being necessary was never the point of this, was it?
New project for next year, one much more in line with my career intentions. I will keep sharing polish experiences though. Thanks to everyone who read my posts and talked to me about the finer points of nail polish – it was an experience I did not expect.
{ Comments on this entry are closed }